Chicken Cutlet Girl warned off political issues
Contrary to most Taiwanese entertainers who are known for ducking issues of social and political sensitivity, entertainer Cheng Chia-chen (鄭佳甄) — dubbed "Chicken Cutlet Girl" (雞排妹) by media — has become one of the most talked-about netizens because of her denunciation of government policies.
Oftentimes dressed in skimpy outfits, 20-year-old Cheng rose to fame and was tagged with the nickname after starring in a commercial as a fried-chicken vendor.
She recently expressed her discontent regarding current political situations with a photograph of herself on Facebook, that showed her wearing a towel, on which was written: "The government is forcing citizens to revolt (官逼民反)."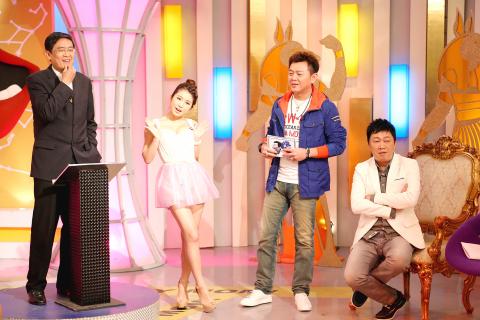 Television presenters Tuo Zong Kang, right, and David Chao, second right, and special guest Ma Shi-bing, left, look on as TV personality Cheng Chia-chen performs an impersonation of President Ma Ying-jeou on Oct 9.
Photo: Tseng Teh-jung, Taipei Times
Her Facebook has commentaries on current political and social issues, including comments criticizing President Ma Ying-jeou (馬英九) for "causing turmoil and making a mess of the country."
On Wednesday last week, she appeared alongside Academia Sinica researcher Huang Kuo-chang (黃國昌) and representatives from activist groups Citizen 1985, the Black Island National Youth Front and the National Alliance for Workers of Closed Factories as guests on a prime-time political affairs talk show on Public Television Service. The episode focused on the series of protests that were to take place the following day, Double Ten National Day.
When asked for comments, veteran TV host Momoko Tao (陶晶瑩) said on Monday that "we need more pretty females to be political pundits. Even I would want to follow her on Facebook."
Meanwhile, producer-turned-entertainer Shen Yu-lin (沈玉琳) told the Chinese-language China Times: "We are in a democratic society and everyone has the right to express their opinion. As a friend of hers, when away from the limelight she really is quite enthusiastic about current affairs."
However, "as an entertainer, one should not make too many political stands. We have to cater to a television audience. One can lose half of the audience because of a political view. Take Chang Fei [張菲], for example. He knows how to maneuver his way through politics and he has never given public support to any politician," he said.
Television variety show host Jacky Wu (吳宗憲) has also advised Cheng against speaking out on public affairs too much.
Cheng's outspokenness has drawn mixed responses from netizens. While some praised her for her criticism of the government and promotion of civic duty, others criticized her for being sensationalist to attract attention.
Comments will be moderated. Keep comments relevant to the article. Remarks containing abusive and obscene language, personal attacks of any kind or promotion will be removed and the user banned. Final decision will be at the discretion of the Taipei Times.