CDC announces availability of free influenza vaccines
More than 3 million doses of government-funded influenza vaccine are now available for high-risk groups, the Centers for Disease Control (CDC) said yesterday.
Also available as of yesterday are the government-funded vaccines protecting against pneumococcal pneumonia; 23-valent pneumococcal polysaccharide vaccine (PPV23) for people aged 75 and over and 13-valent pneumococcal conjugate vaccine (PCV13) for children aged between two and five.
The disease control agency said the two kinds of vaccines — against influenza and against pneumococcal pneumonia — can be administered at the same time, with the flu vaccine in the left arm and the pneumococcal vaccine in the right.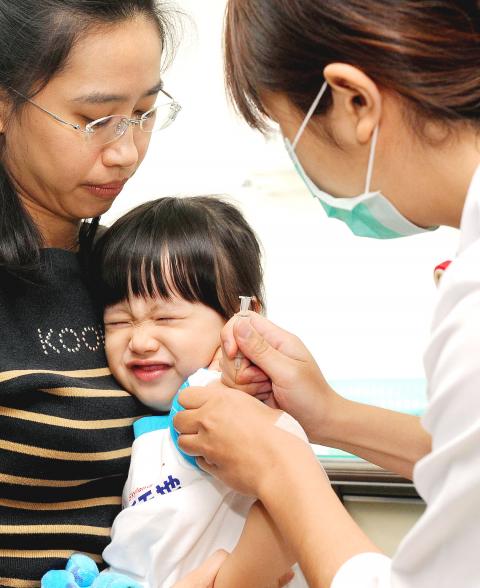 A child sitting on her mother's lap winces as a medical worker gives her an influenza vaccination at a clinic in Taipei yesterday.
Photo: Wang Min-wei, Taipei Times
Since the vaccines cause antibodies to develop only about two weeks after administering, the CDC advises those who are eligible to receive the free vaccines to visit one of the nation's 3,000 medical facilities where government-funded vaccines are offered as soon as possible.
A total of 3.047 million doses of free flu vaccine are available for high-risk groups, including people aged 65 and over; children between the ages of six months and 12 years; nursing home residents, patients with rare or acute diseases; healthcare workers; those working in animal farming or animal disease prevention and people aged between 60 and 64 with high-risk chronic illnesses.
"These groups are subject to a higher risk of developing complications, or even dying, if infected with influenza," CDC deputy director-general Chuang Jen-hsiang (莊人祥) said.
"The flu vaccines offered by the government this year are the types recommended by the WHO, which are trivalent vaccines protecting against three influenza viruses — influenza A (H3N2) virus, influenza A (H1N1) virus, and influenza B virus of the Yamagata lineage," he added.
Comments will be moderated. Keep comments relevant to the article. Remarks containing abusive and obscene language, personal attacks of any kind or promotion will be removed and the user banned. Final decision will be at the discretion of the Taipei Times.