Ma attends Confucius day, cites 'Analects' as guide
President Ma Ying-jeou (馬英九) yesterday attended the celebration of Confucius' 2,563rd birthday in the Taipei Confucius Temple amid tight security over concerns about anti-Ma protests.
While no protesters showed up at the venue, more than 200 police were dispatched to monitor the situation in the area since early morning, with fences set up along the street in front of the temple to clear traffic and police officers at every intersection in the area.
Inside the temple, police from Taipei City Police Department's Datung branch videotaped the ceremony with hand-held cameras to record possible confrontations during the ceremony.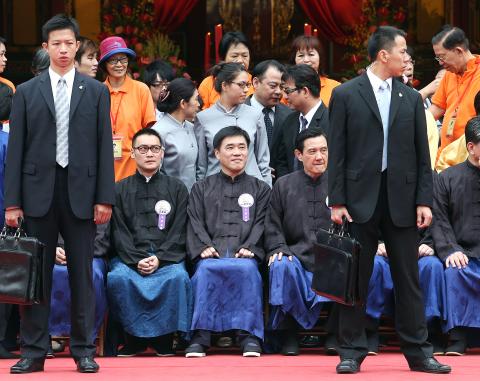 President Ma Ying-jeou, center right, attends a ceremony marking the 2563rd anniversary of Confucius' birth at the Confucius temple in Taipei yesterday.
Photo: CNA
Ma, accompanied by Minister of the Interior Lee Hong-yuan (李鴻源), Secretary-General of the Executive Yuan Chen Wei-jen (陳威仁) and Minister of the Education Chiang Wei-ling (蔣偉寧), paid his respects to the Chinese philosopher by burning incense and watching a bayi (八佾) dance.
The dance, a ritual traditionally acted out to pay respect to emperors, was performed by 64 students.
The temple also opened the Lingxing Gate, its main entrance which is usually closed during the ceremony, and arranged for the president to enter the temple via the route traditionally taken by emperors.
Addressing the ceremony after the two-hour ritual, Ma cited the Analects to emphasize the importance of politicians taking a righteous path and said the wisdom in the Analects has been a reference when he was making cross-strait policies.
"The Analects discussed how feudal barons interacted with each other and how they handled politics. I've taken the wisdom of the Analects as a reference in my cross-strait policies," he said.
The president also lauded Taipei Mayor Hau Lung-bin (郝龍斌) for having done a great job renovating the temple while offering multi-language translation services for foreign guests.
Yesterday's ceremony attracted about 500 local and foreign guests, with Confucian study groups from Japan, Beijing and Fujian Province.
The temple is one of the few Confucius temples that still perform ancient rites that strictly follow the ancient rules with 37 sequential steps in the ceremony.
Comments will be moderated. Keep comments relevant to the article. Remarks containing abusive and obscene language, personal attacks of any kind or promotion will be removed and the user banned. Final decision will be at the discretion of the Taipei Times.