Anti-SID protest draws media personalities
Media and show business personalities yesterday joined other protesters in front of the Supreme Prosecutors' Office Special Investigation Division (SID) to demand the resignation of Prosecutor-General Huang Shih-ming (黃世銘), who had allegedly approved the use of illegal wiretaps.
Huang reportedly met with President Ma Ying-jeou (馬英九) on Aug. 31 and Sept. 1 to discuss the alleged improper lobbying by Chinese Nationalist Party (KMT) Legislative Speaker Wang Jin-pyng (王金平) of former minister of justice Tseng Yung-fu (曾勇夫), High Prosecutors' Office Head Prosecutor Chen Shou-huang (陳守煌) and High Prosecutors' Office prosecutor Lin Shiow-tao (林秀濤) on behalf of Democratic Progressive Party (DPP) caucus whip Ker Chien-ming (柯建銘).
Though an investigation into Wang's actions had been closed without charges being filed and only administrative penalties have been suggested for him, the public and the DPP had been angered at what they called the "illegal grounds" of the division's wiretapping of the phone lines of Wang, Ker and others.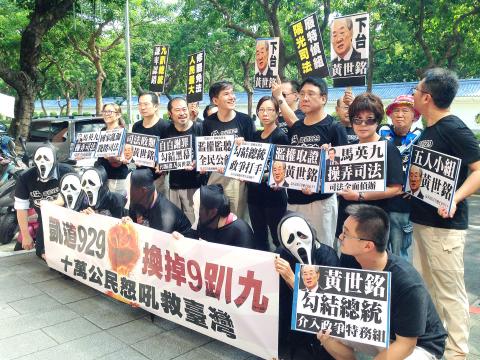 Former TVBS vice president Ge Shu-ren, second row, third right, originator of the anti-government protest scheduled to take place tomorrow, and veteran actress Kuo Mei-chu, second row, second right, and others demand that Prosecutor-General Huang Shih-ming step down during a protest outside the Special Investigation Division's headquarters in Taipei yesterday.
Photo: CNA
Former TVBS vice president Ge Shu-ren (葛樹人) and actress Kuo Mei-chu (郭美珠) took part in the protest, along with the 929 protest event spokesperson Ryan Wu (吳睿穎) and others dressed in black — an allusion to police covert activities — to protest Huang's allegations against Ker.
The SID initially responded to the protest by pulling down the metal doors that block off the hallway to its office, but after Kuo took off her shoes and started using them to hammer the door — an act that encouraged other protestors to try to manually raise the doors — the SID completely shut the door, while police officers formed a wall and started to push the protesters back.
Ge then calmed tensions by urging the protesters not to become irate over the matter and led the crowd in chanting slogans.
Ge said that he was against using personal influence for lobbying, but the crux of the issue lay not with Wang's lobbying for Ker, but rather how the SIC handled its investigation.
The public cannot accept the division's blatant wiretapping and infringement of rights, Ge said.
Ge also said that an anti-Ma protest scheduled for tomorrow would include a "wall" on which participants could vent their frustration.
Comments will be moderated. Keep comments relevant to the article. Remarks containing abusive and obscene language, personal attacks of any kind or promotion will be removed and the user banned. Final decision will be at the discretion of the Taipei Times.