Device to prevent sports injury
IMPACT: The device combines the popularity of smartphones with a growing enthusiasm for jogging by sending warnings to a runner's phone in case of fatigue
A sports research team at National Taiwan Normal University (NTNU) has developed a device designed to help joggers avoid injuries by detecting and transmitting signs of fatigue from the body to mobile communication devices.
The research results, which were unveiled yesterday, come at a time when jogging is becoming increasingly popular around the nation.
However, many have sustained injuries because they often run only on weekends and tend to overdo it.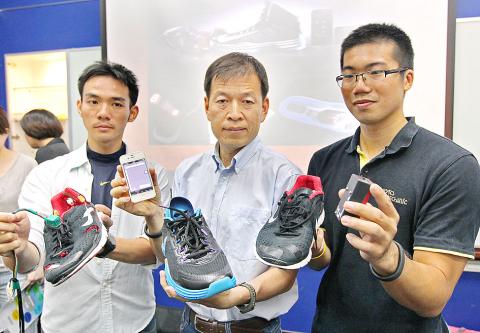 Members of a research team led by athletic performance professor Hsiang Tzyy-yuang, center, hold running shoes fitted with an injury-prevention device at National Taiwan Normal University in Taipei yesterday.
Photo: CNA
The university team, led by Department of Athletic Performance professor Hsiang Tzyy-yuang (相子元), found that the physical activity level of low-impact running can be estimated from the acceleration of the wrists, while the acceleration of ankles can be used to gauge the physical activity level of high-
impact running.
The fatigue produced by excessive exercise causes the runner's posture to change, which is the main cause of sports injuries, he said.
Hsiang said the device combines the use of an accelerometer and a gyroscope with Bluetooth technology. The accelerometer is used to determine the impact of body movements and changes in speed, whereas the gyroscope is used to determine the types of movements made by the user by detecting the speed of foot rotation.
Hsiang said the device can be placed inside users' running shoes to detect how much exercise they have done. The device will send a warning message to users' mobile phone if it detects signs of fatigue to remind users to adjust their posture or to stop running.
The result of the research has been published in the locomotion and balance research journal Gait and Posture and was accepted by the Journal of Sports Sciences for publication next year.
The technology will also be used by the sportswear manufacturer Nike to produce "smart" running shoes, the researchers said.
Aside from casual runners, Hsiang said athletes can use the device to gather training data.
Athletes can look at the data and see if they are making any progress, he said.
"The digital device would show the athletes what they have gained from the training, which would enable them to determine what they should work on next," he said.
In addition to joggers, users engaged in other sports can also place the device on other body parts to prevent injuries, he added.
Comments will be moderated. Keep comments relevant to the article. Remarks containing abusive and obscene language, personal attacks of any kind or promotion will be removed and the user banned. Final decision will be at the discretion of the Taipei Times.