MA-WANG SHOWDOWN: Delegation seeking to highlight 'Taiwan's Watergate'
A Taiwanese delegation is visiting Washington in a bid to draw attention to what they called "Taiwan's Watergate" of illegal wiretapping and abuse of power by President Ma Ying-jeou (馬英九).
Scheduled to depart for the US today, the 13-member Taiwan United Nations Alliance (TAIUNA) delegation will visit Boston, New York, Washington and Philadelphia on a nine-day mission to lobby for Taiwan to join the UN.
A number of legislators and representatives from the Democratic Progressive Party (DPP) and Taiwan Solidarity Union yesterday gave their support for TAIUNA's "UN to Taiwan. Peace Forever" lobbying effort.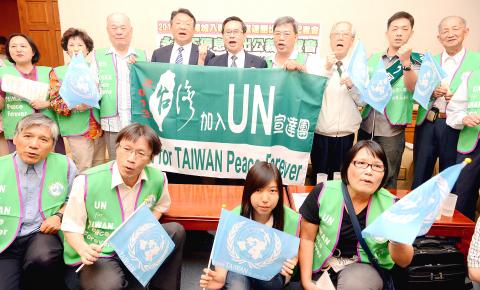 Taiwan United Nations Alliance representatives hold a press conference in Taipei yesterday before departing for the US to promote Taiwan's participation in the UN.
Photo: George Tsorng, Taipei Times
"It's up to the people of Taiwan to save this country. We should stand up with our determined voice to let the world know that Taiwan belongs in the UN," DPP Legislator Chen Ou-po (陳歐珀) said.
Former Department of Health director and former DPP legislator Twu Shiing-jer (涂醒哲) also gave his backing. He led TAIUNA and other groups to WHO meetings in Geneva in 2010 and last year.
Twu said the current political firestorm over the charges of influence-peddling against Legislative Speaker Wang Jin-pyng (王金平) and Special Investigation Division (SID) phone-tapping of top politicians and opposition officials, has much in common with the Watergate scandal of the 1970s.
"What we have is Taiwan's Watergate. Ma is abusing his presidential powers by authorizing illegal wiretaps and secret surveillance. Ma is doing this for political reasons and to purge politicians standing in his way," he said.
"The US Watergate case led to the resignation of [then-US] president Richard Nixon. In Taiwan's Watergate case, the government is interfering with the judiciary, and using dirty tactics to subvert legal procedures. We have already seen the regression of our democratic system, and Ma is masterminding political purges and a power struggle," Twu said.
Following a two-day stay in New York, where the delegation expects to be joined by up to several thousand overseas Taiwanese for a "Keep Taiwan Free, Save Our Democracy" parade, TAIUNA will head to Washington for a three-day visit.
According to Chiang Cheng-tien (江政典), TAIUNA's youth delegate, overseas Taiwanese groups have arranged meetings with members of the US Congress on Capitol Hill.
"We have already prepared letters and reports to disseminate information and press the US Congress on Taiwan's Watergate case, and on Ma's abuse of power and subversion of Taiwan's democracy," Chiang said. "We will request that the US government express its strong concern and condemnation regarding Taiwan's Watergate."
TAIUNA has worked with overseas Taiwanese organizations and the Washington-based Formosan Association for Public Affairs to organize rallies and demonstrations at the UN headquarters in Geneva, and also during the annual convening of the UN General Assembly in New York.
Comments will be moderated. Keep comments relevant to the article. Remarks containing abusive and obscene language, personal attacks of any kind or promotion will be removed and the user banned. Final decision will be at the discretion of the Taipei Times.