Ko Wen-je enjoys green support: poll
OUTSIDE CHANCE: Ko, who is not a DPP member, has enjoyed growing popularity in the pan-green camp and some want to see him run in the Taipei mayoral election
Ko Wen-je (柯文哲), director of National Taiwan University Hospital's department of traumatology, yesterday said that he would continue his efforts and be prepared for the Taipei mayoral election next year, in the wake of the latest opinion poll listing him as the second-most popular mayoral hopeful in the pan-green camp after former Democratic Progressive Party (DPP) chairperson Tsai Ing-wen (蔡英文).
"The ranking doesn't mean much. I will continue to prepare for the race and think about whether or not I should give up medical practice for politics," he said on the sidelines of the launch of DPP Taipei City Councilor Chien Yu-yen's (簡余晏) service office in Taipei.
The poll, released by the Chinese-language China Times Weekly yesterday, showed that of the possible Taipei mayoral candidates in the DPP, Tsai received the highest support rate of 18 percent, while 14 percent of respondents said they supported Ko.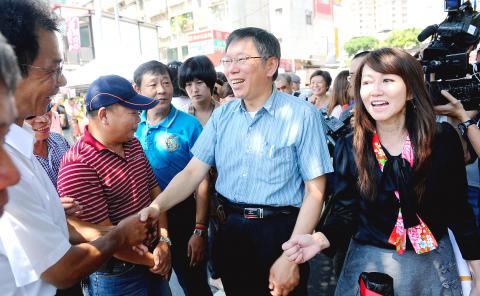 Ko Wen-je, director of National Taiwan University Hospital's department of traumatology, second right, greets people attending the launch ceremony for the service office of Democratic Progressive Party Taipei City Councilor Chien Yu-yen, right, in Taipei yesterday.
Photo: Chang Chia-ming, Taipei Times
DPP Chairman Su Tseng-chang (蘇貞昌) trailed behind Tsai and Ko in the survey with 11 percent support, while former vice president Annette Lu (呂秀蓮), who said earlier this week that she would consider running in the election, had the support of 5 percent of respondents.
Ko has enjoyed growing popularity in the pan-green camp despite not being a DPP member and there has been calls for the DPP to recruit Ko as its candidate in the election.
According to the survey, the former chairman of Taipei EasyCard Corporation, Sean Lien (連勝文), is the potential mayoral candidate who enjoys the most support in the pan-blue camp at 23 percent, followed by Chinese Nationalist Party (KMT) Legislator Ting Shou-chung (丁守中) with 12 percent support.
Overall support for Lien, who has remained tight-lipped about his rumored intention to run, is higher than for Tsai. If the Taipei mayoral election was held immediately, 36 percent of respondents said they would vote for Lien, while 33 percent said they would support Tsai.
Lien, one of the sons of former KMT chairman Lien Chan (連戰), has been seen as the most likely candidate to succeed incumbent Taipei Mayor Hau Lung-bin (郝龍斌). He has not yet revealed an intention to join the mayoral race, but has continued to keep close contact with local borough chiefs and city councilors to maintain his support base.
The poll was conducted on Monday among 812 Taipei residents.
Comments will be moderated. Keep comments relevant to the article. Remarks containing abusive and obscene language, personal attacks of any kind or promotion will be removed and the user banned. Final decision will be at the discretion of the Taipei Times.