Hau defends tough stance on Top Pot Bakery 'fraud'
MORE DOUGH: Taipei's mayor denied he was trying to gain political capital from the issue, while city officials said they are pressing the chain to raise its compensation offer
Taipei Mayor Hau Lung-bin (郝龍斌) yesterday defended his government's tough stance in demanding that Top Pot Bakery comply with a stringent refund plan following revelations that the company secretly used artificial flavoring in its "all-natural" products.
"There are different ways of handling each type of food safety incident... Top Pot Bakery set a bad example by mislabelling the ingredients in its baked goods. This was a dishonest, deceptive act," Hau said at Taipei City Hall.
The bakery chain confirmed last week that it has been using artificial additives in products it claimed were made using only natural ingredients.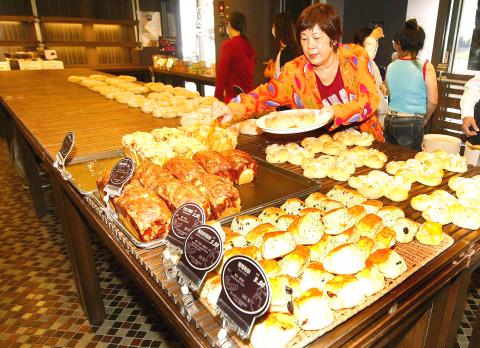 A customer selects bread at one of Top Pot Bakery's two outlets in Greater Kaohsiung yesterday, after the chain closed all of its stores for three days following revelations that it used artificial ingredients.
Photo: CNA
Under the refund plan Top Pot agreed to, customers who made purchases since the bakery opened in December 2010 will be given a refund for the items they bought, providing they have receipts or other proof of purchase.
Consumers can apply for a refund starting today.
Taipei City Government officials met with Top Pot representatives to discuss the refund scheme, but yesterday reiterated their dissatisfaction with the amount of compensation offered, saying that the bakery chain should pay three times the cost of each refunded product.
Hau dismissed concerns that the city is being unduly harsh in its handling of the incident and denied he was trying to make political gains from it.
"It is the mayor's obligation to protect residents' rights and ensure food safety... The company claimed that it only used natural ingredients and sold its products at high prices. This is fraud," he said.
Tsai Li-wen (蔡立文), head of the city's Department of Legal Affairs, said paying triple the price of purchased goods as compensation was in line with Article 51 of the Consumer Protection Act (消費者保護法), which states that a company that has deceived its customers should pay one to three times the amount of money spent by customers for each refund claim.
"The city government did not set out to target Top Pot Bakery. Our proposed refund plan is in accordance with the law," Tsai said.
Chen Hsin-cheng (陳信誠), Taipei's chief consumer ombudsman, said the ombudsman office will start accepting statements from anyone dissatisfied with the refund offer today as it plans to file a complaint with consumers' rights officials.
Comments will be moderated. Keep comments relevant to the article. Remarks containing abusive and obscene language, personal attacks of any kind or promotion will be removed and the user banned. Final decision will be at the discretion of the Taipei Times.