Huaguang protest ends with police, activists clashing
PUBLIC PAIN: Protesters mourned what they called the death of justice, and said that government land expropriations and forced demolitions hurt the public
Facing the Ministry of Justice's decision that the remaining houses in Taipei's Huaguang Community (華光社區) would be demolished within three days starting yesterday, nearly 200 residents and activists yesterday marched in the capital to protest the forced removal of Huaguang residents, while calling for "living justice."
After setting up a simple altar with fruit on it and a wooden sign that reads: "living justice" on a corner of the old community — which they said represented a parting ceremony for the community and the death of justice — the activists bowed their heads in tribute before heading off on their march.
Dozens of young activists carried wooden doors, window frames, ladders and other furniture on their shoulders as they joined the protest march.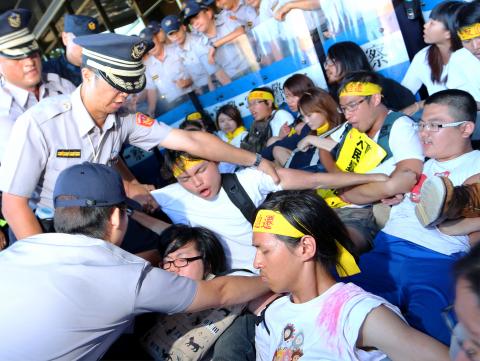 Police officers attempt to break up a sit-in outside the Ministry of Justice in Taipei yesterday protesting the demolition of Taipei's Huaguang Community.
Photo: Wang Yi-sung, Taipei Times
"We will use our bodies to show the government that what they are relentlessly tearing down are people's homes," a representative of the group said. "The [then-Chinese Nationalist Party (KMT)] government tacitly agreed for people to build homes in the community after the Nationalist government retreated to Taiwan in 1949. The government also did not impose residential planning controls during the periods of migration from rural to urban areas in the 1970s, and allowed more people to move into the area, but now it wants to erase its mistakes through violent demolitions."
Holding a portrait of his deceased mother at the protest, a 60-year-old man surnamed Chen (陳) said his mother, Cheng Yi-mei (鄭依妹), had bought a house in the community with money she made working as a domestic servant for more than 40 years. However, five years ago, aged 87, she was faced with a "cold-blooded and cruel government" that threatened to fine her for benefiting from "illegal occupation" of government land if she did not move.
"She has done nothing to deserve being continually threatened over the past five years until her death this year... Many residents had no choice but to move because they could not cope with the heavy fines, which included interest payments of 5 percent, but I will not give in, not only for my mother, but because I can't stand a government that treats its people like dirt," Chen said.
Ho Hui-fen (侯惠芬), whose husband was born and raised in the community, said her parents-in-law have always abided by the law, paid their water and electricity bills, and have lived in Huaguang all their lives after they came to Taiwan, so it is unfair that they are suddenly forced to move and asked to pay a fine of more than NT$6 million (US$200,000).
Another protester, a young woman in her early 20s, said she began caring about similar controversial developments, including the Losheng (Happy Life) Sanatorium (樂生療養院) and the Wenlin Yuan (文林苑) urban renewal project, when she was a university student, and joined the movement for the rights of Huaguang residents because "the government always uses empty promises of economic development to repress underprivileged groups in society."
In front of the Executive Yuan, activists staged three dramas, expressing that the public are hurting and bleeding as the government uses lawsuits against them; are being made homeless by land expropriations and demolitions; and are dying as the government hands down heavy fines while benefiting from offering regained land to companies for commercial use.
After the parade ended on Ketagalan Boulevard near noon, activists held an impromptu protest in front of the Ministry of Justice, where clashes with police broke out with several activists forcibly removed, put on police buses and dropped off at other locations.
Four activists were required to give their personal information to police before being released.
Comments will be moderated. Keep comments relevant to the article. Remarks containing abusive and obscene language, personal attacks of any kind or promotion will be removed and the user banned. Final decision will be at the discretion of the Taipei Times.