Miaoli leaders defend project, pan 'outsider' protesters
Several Miaoli County politicians, including County Commissioner Liu Cheng-hung (劉政鴻), yesterday defended the controversial Dapu Borough (大埔) development project as "beneficial to the community" and accused "outsiders" of inciting protests against it.
"I was born and raised in Dapu, my family's house was among those being expropriated and I am fully supportive of the project because it's going to bring prosperity to the community," Jhunan Township (竹南) Council Speaker Lin Shu-wen (林樹文) told a press conference at the Chinese Nationalist Party (KMT) caucus office at the Legislative Yuan in Taipei yesterday morning.
"As much as 98 percent of landowners representing more than 900 households in the area have all agreed to the project. Why would they support it so much if it's bad?" Lin asked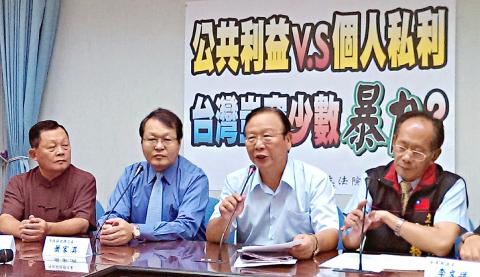 Miaoli County Commissioner Liu Cheng-hung, far left, listens as Deputy Minister of the Interior Hsiao Chia-chi, second from right, talks at a press conference in the legislature in Taipei yesterday defending the Dapu Borough development project.
Photo: CNA
Dapu Borough Warden Cheng Wen-chin (鄭文進) added that all locals are supportive of the project and that none of the protesters are local residents.
"We Dapu residents are all celebrating the project, not a single person is opposed to it. Which of those who are protesting the project are from Dapu? Not even one," Cheng said. "All of us in Dapu, in Jhunan and in the whole of Miaoli County support our commissioner."
Dapu Self-Help Organization spokeswoman Yeh Hsiu-tao (葉秀桃) rebutted the remarks in a telephone interview.
"I don't know what they are talking about. Every member of the self-help organization is a resident of Dapu, and all the members of the Youth Alliance for Miaoli are natives of Miaoli, if not of Dapu," Yeh said.
She said that of course, if looking purely at the paperwork, local politicians can claim that the vast majority of local residents are supportive of the project.
"The truth is, most of the residents didn't know they could say 'no,'" Yeh said. "All of us received official letters from the county government some years ago asking us to provide our agreement [to the project] by a certain date, otherwise we could lose our right to receive compensation."
"This is why, although a lot of residents are opposed to the project, they still returned their letters of agreement. They were afraid that they would lose everything if they didn't do so," she said.
Peng Hsiu-chun (彭秀春), another Dapu resident who opposes the project and whose house was forcibly demolished, also challenged the idea that no local residents are opposed to the project.
"Besides, I want to say that there's nothing wrong with having people from elsewhere help us out," Peng said in a telephone call. "This is not just a problem for Dapu. Such a tragedy could happen anywhere if the mechanism doesn't change."
Meanwhile, during the press conference, Liu rebutted allegations that he has "played tricks" to preserve houses belonging to his family while many houses in the future high-speed rail station development zone were flattened, so as to enjoy a boost in their value.
"We changed the land classification from 'for farming' to 'for construction' as early as 1979, so it has nothing to do with the high-speed rail station development project," he said.
He also refuted allegations that he was able to repay NT$50 million (US$1.6 million) in debt within a year of taking office as county commissioner because he was involved in corruption.
He said he was able to clear his debts by selling land owned by his family.
Comments will be moderated. Keep comments relevant to the article. Remarks containing abusive and obscene language, personal attacks of any kind or promotion will be removed and the user banned. Final decision will be at the discretion of the Taipei Times.