Japan must apologize to comfort women: activists
JUST SAY SORRY: Taiwan Women's Link president Huang Sue-ying said that forcing the women to suffer sexual exploitation and abuse was a war crime
Rights advocacy groups demonstrated outside the Japanese representative office in Taipei yesterday morning as part of globally coordinated action to demand that the Japanese government apologize and pay compensation to those forced to serve as military comfort women during World War II.
Holding placards condemning Japanese politicians — including Japanese Prime Minister Shinzo Abe, Deputy Prime Minister Taro Aso, Okasa Mayor Toru Hashimoto and Representative Shintaro Ishihara — for denying or playing down the comfort women issue, more than 100 demonstrators joined their partners in the US, Canada, Germany, South Korea, the Philippines and Japan in demanding that the Japanese government apologize and compensate women forced to serve in military brothels during World War II.
"We are here — as we have been in past years — to demand that the Japanese government formally apologize to and compensate comfort women," Taipei Women's Rescue Foundation executive director Kang Shu-hua (康淑華) said. "The Japanese government is both legally and morally responsible for the sexual exploitation."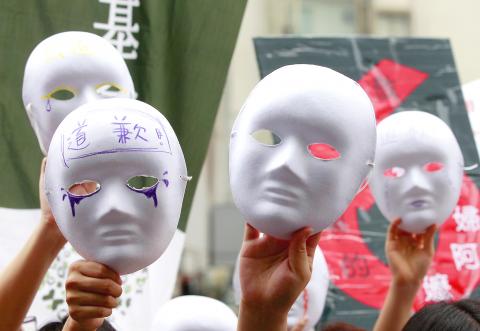 Activists holding masks take part in a protest in front of the de facto Japanese embassy in Taipei yesterday.
Photo: Pichi Chuang, Reuters
Kang said that as many as 2,000 Taiwanese women were forced to work in Japanese military brothels and that there are only six left alive — one of them is 92 years old, while the others are in their 80s.
"They have waited for all these years for an apology, how long do they still have to wait?" she asked.
Taiwan Women's Link president Huang Sue-ying (黃淑英) said that forcing the women to suffer sexual exploitation and abuse was a war crime.
"You [the Japanese government] are wrong if you think the injustice will be buried with these former comfort women when they are all gone," Huang said. "Generations of Taiwanese will continue to fight for justice for them, as long as we are still around."
Labor Rights Association chairwoman Wang Chuan-ping (王娟萍) accused Japanese politicians who twist history of being accomplices in a war crime.
An official from the Japan Interchange Association's General Affairs Department came out to receive the petition, but demonstrators questioned the sincerity of the office as it sent a lower-ranking official to receive the petition.
With the crowd chanting "apologize" and "representative, come out," the association eventually sent Deputy Representative Yukuke Sami to receive the petition.
Three demands were listed in the petition — that the Japanese prime minister apologize to the comfort women on behalf of the Japanese government, with an endorsement from parliament; the Japanese government should recognize the fact that there were comfort women who were forced to work at military brothels and should never change its stance on the issue; and that Japan should have legislation prohibiting remarks that twist the facts about the comfort women.
The crowd vowed to return next year if the Japanese government fails to respond positively to the demands.
Comments will be moderated. Keep comments relevant to the article. Remarks containing abusive and obscene language, personal attacks of any kind or promotion will be removed and the user banned. Final decision will be at the discretion of the Taipei Times.