Filipinos welcome easing of Taipei-Manila tensions
Filipinos in Taiwan said on Sunday that they welcomed the government's lifting of a freeze on the hiring of workers from the Philippines as part of sanctions imposed due to Manila's handling of the fatal shooting of a Taiwanese fisherman.
"We're so happy," Samuel Bagos, who has spent one-and-a-half years in Taiwan, said when asked to comment on the latest development in ties between the two countries.
Philippine workers who are already in Taiwan "can work here again," the 24-year-old said, referring to Taiwan as a "peaceful place."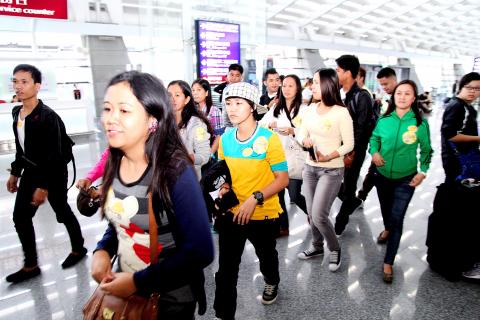 Philippine workers arrive at Taiwan Taoyuan International Airport on Thursday last week after the lifting of restrictions on the hiring of workers from the Philippines.
Photo: EPA
He is waiting to be transferred to work in a factory in Taoyuan next month.
Bagos added that the announcement of the lifting of the freeze on hiring Filipinos was also a relief for many of his friends and relatives who had wanted to come here to work or had reapplied to work in the country.
He had also called his friends back in the Philippines, to inform them of the news, saying that "they are happy" about it.
Taganahan Lilia Tomecos shared Bagos' views.
"I'm so happy, not just for me, but for all Filipino workers," said Taganahan, a 59-year-old domestic caregiver, whose contract is set to expire at the end of this month.
Taganahan said she can now renew her contract and follow through with her plan to work for two more years in Taiwan to support her daughter until she graduates from college and to save some money to cultivate a plot of land and rebuild her house in the Philippines.
Many of her friends who were concerned about their work status in Taiwan are also thrilled about the lifting of the labor freeze, said Taganahan, who has been working in Taiwan for six years.
On Thursday last week, the government declared a lifting of all 11 sanctions against Manila over the shooting death of 65-year-old fisherman Hung Shih-cheng (洪石成) by Philippine Coast Guard personnel on May 9, when his fishing boat, the Kuang Ta Hsing No. 28, was operating in the overlapping exclusive economic zones of the two countries.
The hiring freeze took effect on May 15. The Council of Labor Affairs said it would resume processing applications for hiring Filipinos, on Friday last week.
"It's good news," said a woman from the Philippines, who only identified herself as Jocelyn.
Many Philippine nationals want to work in Taiwan to earn relatively higher salaries than in their home country, said the 42-year-old, who works as a caregiver in Taoyuan.
The Filipinos also said they were happy to see both countries become "friends again."
Meriam Hsu, a social worker with the Taiwan International Workers' Association, feels positive about the lifting of the labor freeze, but stressed that it was "unfair" for Filipino workers to have suffered the consequences of something that was not their fault.
The decision to lift the sanctions came in the wake of a recommendation by the Philippines' National Bureau of Investigation to bring homicide charges against eight Philippine Coast Guard officers involved in the shooting, as well as an apology offered in person by an envoy of Philippine President Benigno Aquino III to Hung's family.
The Philippine government has also reached an agreement with the family regarding the details of a compensation package, the Ministry of Foreign Affairs said on Thursday last week.
The hiring freeze has affected more than 14,000 Philippine citizens, including about 10,000 whose applications for the renewal of their work permits were not processed after their original permits expired, the council said.
As of the end of June, there were 462,658 foreign workers in Taiwan, including about 87,000 from the Philippines.
Meanwhile, Philippine workers disagreed with recent remarks by the Philippines' national men's basketball coach, Chot Reyes, who said that workers from the Philippines had suffered a great deal of abuse in Taiwan.
There may be "a few" cases of workers suffering abuse at the hands of Taiwanese employers, but it is not a widespread problem, Bagos said.
Taganahan said that she believes physical abuse is rare, and most Filipinos in Taiwan have simply encountered aloofness since the shooting incident.
Comments will be moderated. Keep comments relevant to the article. Remarks containing abusive and obscene language, personal attacks of any kind or promotion will be removed and the user banned. Final decision will be at the discretion of the Taipei Times.