Luxury tax hurting jobs: yacht builders
ALL AT SEA: Yacht builders said a special sales levy on luxury goods is damaging efforts to revitalize the industry, adding that each order can lead to 100 jobs
Yacht builders yesterday urged the administration of President Ma Ying-jeou (馬英九) to stop listing yachts as luxury items, saying the government has been shooting itself in the foot by trying to promote the recreational marine industry while levying a special sales levy on yachts.
"Yachts should be considered a consumer product rather than property or a luxury product that can be used for speculative profit. More importantly, the industry creates jobs and could be an integral part of Taiwan's development of the recreational marine industry," Taiwan Yacht Industry Association (TYIA) president John Lu (呂佳揚) said.
Lu headed a TYIA delegation that visited the Legislative Yuan yesterday and met with the Chinese Nationalist Party (KMT) and Democratic Progressive Party (DPP) caucuses as well as Legislative Speaker Wang Jin-pyng (王金平) to present their appeal.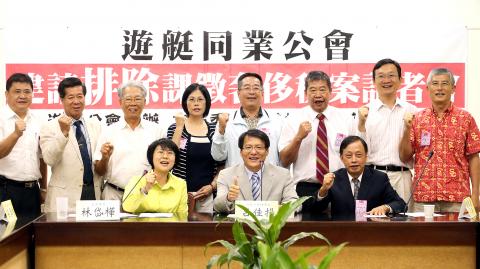 Taiwan Yacht Industry Association members and Democratic Progressive Party legislators hold a press conference in Taipei yesterday urging the government to stop imposing the luxury tax on yachts.
Photo: CNA
The yacht builders said prospects have been expanding for the recreational marine industry since the lifting of martial law, which had kept all the nation's coastlines and waters off-limits, as well as amendments to the Ships Act (船舶法) and other related laws in recent years.
Taiwan is the world's sixth-largest yacht manufacturer, with annual revenues of US$250 million, the association said.
However, the industry's full potential has been held back by a special sales tax of 10 percent on luxury goods, such as yachts and airplanes that are worth at least NT$3 million (US$100,000).
The tax has not only dealt a blow to the yacht-building business, a formerly flourishing industry that has been hurt by the global economic slowdown, but has also affected employment opportunities and failed to bring in substantial tax revenue, Lu said.
The government has only collected NT$5 million in "luxury tax" from yacht buyers, he said.
"However, every order for a new yacht could create 100 jobs," he added.
Tanaya Yachts president Chiu Nan-hai (邱南海) said the yacht-building industry has made great contributions to Taiwan and extended the nation's competitiveness.
Responding to the appeal, Taxation Agency Deputy Director-General Hsu Tzu-mei (許慈美) said the Ministry of Finance is reviewing the luxury tax and welcomed the builders' opinions.
However, Hsu added that the ministry said during a policy deliberation that the tax does not hurt local business prospects because a majority of Taiwan-made yachts are sold to foreign customers.
Comments will be moderated. Keep comments relevant to the article. Remarks containing abusive and obscene language, personal attacks of any kind or promotion will be removed and the user banned. Final decision will be at the discretion of the Taipei Times.