Relocation vital to Huaguang residents facing demolitions
A 73-year-old on a ventilator yesterday called on President Ma Ying-jeou (馬英九) to provide new housing before next month, when homes in Huaguang Community (華光社區) are scheduled to be dismantled.
"There is not much I ask the government to do, only that it helps resolve our relocation problem and abrogates the fines," Yu Ssu-chin (余賜秦) told a press conference in Taipei organized by Democratic Progressive Party Legislator Tien Chiu-chin (田秋堇).
A monthly wage of little more than NT$30,000 from his youngest son is the main source of income Yu's family of five relies on, said a student surnamed Tung (董) who, with other students, has sided with the residents to preserve their houses.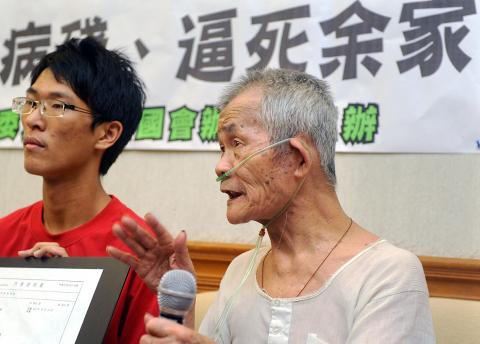 A senior resident of the Huakuang Community in Taipei's Da-an District attends a press conference at the legislature in Taipei yesterday, asking the Ministry of Justice for help after the community is demolished next month.
Photo: Liao Chen-huei, Taipei Times
Tung said the residents recently received a letter from the Ministry of Justice, which owns the land, reminding them demolition is set to begin at the end of next month, but most of them have nowhere to go.
Located near Taipei's National Chiang Kai-shek Memorial Hall, the Huaguang Community has been designated by the Executive Yuan as the site for a commercial zone.
The community was originally a neighborhood of 183 households, but earlier this year, part of the neighborhood was flattened despite opposition from residents.
Yu said the house he has lived in for more than 30 years was bought from a friend and the transaction was completed after filing for registration at the Daan District Office.
"Although I did not own the land, the house was mine," Yu said.
Therefore, Yu said he does not understand why he was found by the ministry to be illegally profiting from occupying the land.
After the ministry won a lawsuit, the court ordered forfeiture of one-third of his youngest son's salary to pay legal costs of NT$130,000.
In addition to a fine of NT$2 million (US$66,862), Yu must pay NT$110,000 for the dismantling of his house if he fails to demolish it by the deadline.
"I cannot afford all these fines. I cannot afford to live in public housing either because I have to pay a deposit of NT$50,000 before we move in, monthly rent of NT$10,000, management costs of NT$1,000 and a parking fee of NT$2,000 per month," Yu said.
The ministry has arranged for Huaguang residents to live in public housings, but many of them have found the accommodation unaffordable or unsuitable, Tung said.
"We urge the Ministry of Justice to call off its demolition plans until it provides relocation assistance for the displaced people that meets their specific needs," Tung said, joined by dozens of students at the press conference.
John Liu (劉可強), professor and executive director of the Building and Planning Research Foundation at National Taiwan University, slammed the government for "a gross violation of the Constitution" over the salary forfeiture and over the forced evictions without adequate alternative housing as required by international human rights standards under the two human rights covenants the nation has signed.
Tien said Ma should step in to settle the problem because he had repeatedly promised the residents when he was mayor of Taipei that their houses would not be flattened before they have adequate places to live in.
Comments will be moderated. Keep comments relevant to the article. Remarks containing abusive and obscene language, personal attacks of any kind or promotion will be removed and the user banned. Final decision will be at the discretion of the Taipei Times.