Dapu leaders slam homeowners, supporters
While the homes of four families in Dapu (大埔) in Miaoli County's Jhunan Township (竹南) were being forcefully dismantled yesterday, a group of residents led by Miaoli County Council Speaker Yu Chung-tien (游忠鈿) were in Taipei slamming opponents of the demolition.
Chinese Nationalist Party (KMT) legislators Chen Chao-ming (陳超明) and Hsu Yao-chang (徐耀昌), both from Miaoli, which has only two legislative seats, scheduled a press conference in support of the Miaoli County Government to coincide with the demolition.
"Out of a total of 38 county councilors in Miaoli, 32 are here today. Supporters of the four families have stood in the way of the county's development. As county councilors, we would have stopped the demolition if the county government had done anything wrong," Yu said.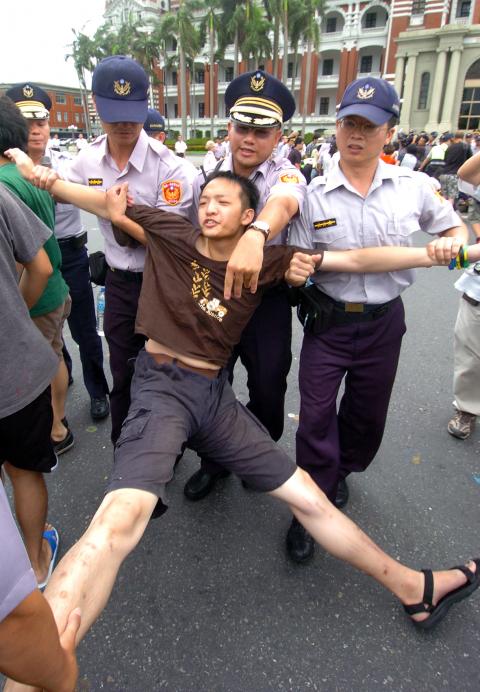 A protester is taken away by police after breaking through police lines and attempting to approach the Presidential Office in Taipei yesterday after learning that the demolition of houses in Miaoli's Dapu Borough had been carried out.
Photo: Wang Min-wei, Taipei Times
The four houses were flattened to make way for a 154 hectare development project, which includes the expansion of the Jhunan Science Park, erecting public facilities and establishing a residential commercial district. Farmland and houses on 136 hectares were expropriated for the project.
Yu said he wished that the residents of the four houses, owned by Ko Cheng-fu (柯成福), Huang Fu-ji (黃福記), Peng Hsiu-chun (彭秀春) and Chu Su (朱樹), can look up to people who donate land to build roads and bridges, without expecting compensation.
"Only once the four houses were torn down could justice and fairness be fulfilled. If these houses were not torn down, how would the other 39 families whose houses had already been dismantled endure the pain? The [families owning the four houses] should make public interest a priority," Chen said.
Other than labeling the four families "obstacles" to local development, supporters of the development project called students, academics and activists from various non-governmental organizations backing the four families "outsiders."
"Miaoli is a home to us local people, not to them [supporters of the four families]. What are they? Students and human rights activists," Chen said.
Dapu Village Warden Cheng Wen-ching (鄭文進) said if the four houses were left standing they would pose a danger to the public because they would block traffic, but demolishing them did not leave the families homeless, because they would get other houses to live in.
The issue was not about a majority of people in Miaoli overwhelming the four families, but about public interest and road safety, the county government's economic development department director Shen Yu-pin (沈又斌) said.
If the four houses remained standing, they could block traffic and cause fatal traffic accidents. If that happened, the Miaoli County Government would be held criminally liable, Shen said.
Comments will be moderated. Keep comments relevant to the article. Remarks containing abusive and obscene language, personal attacks of any kind or promotion will be removed and the user banned. Final decision will be at the discretion of the Taipei Times.