Aboriginal tribes call for autonomy
PROTECTING TRIBES: Jiang enjoyed Hualien hospitality and heard concerns about how traditional rituals can be understood and revived to revitalize indigenous culture
Premier Jiang Yi-huah (江宜樺) promised to speed up review of a draft legislation in the Executive Yuan after being repeatedly urged to implement the autonomy of the indigenous peoples during his trip to Aboriginal tribes in Hualien County yesterday.
As part of a trip to boost tourism and the cultural industry in Hualien, and accompanied by Council of Indigenous Peoples Minister Sun Ta-chuan (孫大川), Jiang took part in a half-day rafting outing on the Siouguluan River (秀姑巒溪). He then visited a museum of the Kiwit people, Kakitaan, the Ancestral Shrine in Tafalong (太巴塱) and a tribal school of the Cilangasan people, all Amis Aborigines, as well as the Formosa Indigenous Dance Foundation of Culture and Art.
In talks with locals, Jiang was urged to allow indigenous people to organize autonomous communities, a promise that President Ma Ying-jeou (馬英九) has repeatedly made since 2008.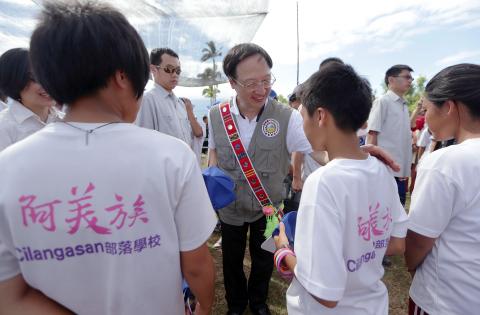 Premier Jiang Yi-huah, center, visits Dongfu Elementary School in Hualien County yesterday, the second day of his two-day trip to Taitung and Hualien counties.
Photo: CNA
Yet the draft autonomy act has long been stalled in the legislature.
Wu Ming-chi (吳明季), who heads the Kiwit Indigenous Museum, said the Kiwit tribe could be designated as a pilot village of autonomy because rafting has made the tribe a good tourist attraction and brought in regular revenue.
Over the years, the tribe has seen the return of young people from big cities, which has kept the tribe's culture alive and passed on traditions, but the lack of funds from Hualien County to maintain road infrastructure often leaves the roads, especially the main road to the tribe — County road No. 64 — broken, Wu said, calling on Jiang to address the issue.
Lin Huan-chih (林桓智), an Aboriginal cultural worker, explained to Jiang the efforts the tribe people have made since 1996 to rebuild the Tafalong's Ancestral Shrine.
"What we are most concerned about is how traditional rituals can be understood by young people and be revived along the Ancestral Shrine to help revitalize the culture," Lin said.
Sun, who is to leave the Cabinet to return to study Aboriginal literature at National Chengchi University, said his biggest regret during his four-year stint in the council was that an act to grant Aborigines right to autonomy was not enacted.
Sun said he wished the government could expand the establishment of tribe schools in Aboriginal villages to 30 schools in the next 10 years to help younger generations learn their mother tongue, culture and traditions.
There are currently three such schools nationwide that are recognized by the education system, but they are open only during the summer and winter vacations.
Comments will be moderated. Keep comments relevant to the article. Remarks containing abusive and obscene language, personal attacks of any kind or promotion will be removed and the user banned. Final decision will be at the discretion of the Taipei Times.