Celebrities voice opposition to nuclear power
Several artists conveyed their opposition to nuclear power and the Miramar Resort Hotel in Taitung's Shanyuan Bay (杉原灣) during the 24th Golden Melody Awards ceremony on Saturday night.
Several celebrities expressed their views through the outfits they wore on the red carpet at the Taipei Arena.
Veteran hip-hop artists and social activists Kou Chou Ching (拷秋勤) wore customized black-and-white suits printed with the message "What is happiness? Zero nuclear power," as well as anti-nuclear stickers on their face.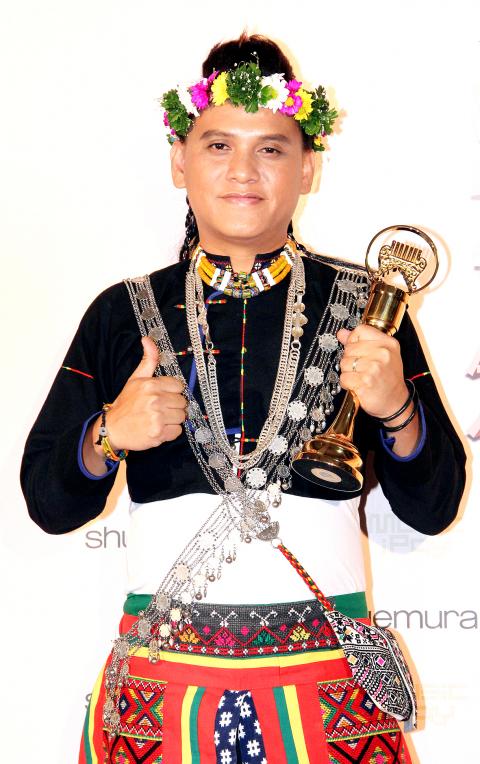 Aboriginal singer Sangpuy holds up his Best Aboriginal Singer Award which he was awarded at Saturday's Golden Melody Award in Taipei.
Photo: CNA
Post-rock band Sorry Youth (拍謝少年) walked the red carpet while holding an anti-nuclear flag.
A group led by Aboriginal musician Dakanow (達卡鬧) arrived holding a towel that read: "Tear down the Miramar Resort Hotel," which was made by civic groups that have long been fighting the controversial construction plan and used in many social movements against the project.
"We make music that is like social activism, we must act like warriors, becoming braver in each battle," Hakka musicians Liu Shao-hsi (劉劭希) and Lo Sirong (羅思容) said as they presented the award for best Hakka musician.
While receiving the Best Instrumental Album Award, Baby C (鍾興民) also showed his opposition to nuclear power by saying: "I am a human being, I am against nuclear power."
Best Aboriginal Singer Award winner Sangpuy (盧皆興) asked other nominees to join him on stage with hand-held signs bearing messages such as "Protect the eastern coastline," "Against nuclear power and nuclear waste" and "Refuse illegal development."
The musicians' declarations on these issues received mixed responses from the audience, with some saying they did not appreciate political messages at an entertainment event, while others praised the musicians for caring about public issues.
Comments will be moderated. Keep comments relevant to the article. Remarks containing abusive and obscene language, personal attacks of any kind or promotion will be removed and the user banned. Final decision will be at the discretion of the Taipei Times.