Excessive pesticide found on peas, beans, peppers
RANDOM TESTING: The Consumers' Foundation said 27 samples had pesticide residue that exceeded limits, including some banned from use on that type of crop
The Consumers' Foundation yesterday said its latest random testing of vegetables for pesticides found that 91 percent of cowpeas, 67 percent of snow peas, 47 percent of string beans and 18 percent of sweet peppers bought in the Greater Taipei area contained excessive amounts of pesticide residues or pesticides that are not allowed.
The survey was conducted in April and May on 49 samples —11 cowpeas, 12 snow peas, 15 string beans and 11 sweet peppers — bought at hypermarkets, supermarkets, traditional markets and organic food stores, the foundation said.
Chen Chih-yi (陳智義), publisher of the foundation's Consumer Reports Magazine, said 27 samples had pesticide residue exceeding the levels regulated by the Standards for Pesticide Residue Limits in Foods (殘留農藥安全容許量標準) or had banned pesticide on them.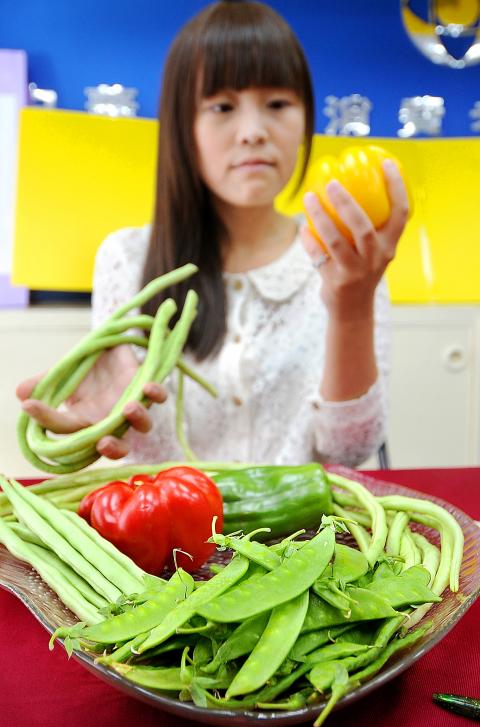 A member of the Consumers' Foundation displays beans and sweet peppers during a press conference in Taipei yesterday.
Photo: Fang Pin-chao, Taipei Times
A few samples had as many as eight types of pesticides on them, Chen said.
Ten of the 11 cowpea samples violated regulations, the foundation said. One cowpea sample found with eight types of pesticide carried traces of chlorantraniliprole — which is not allowed to be used on the vegetable — and four other pesticides that exceeded regulated limits, including fenpropimorph residue that was up to 90 times the limit, the foundation said.
Another cowpea sample had four types of pesticide and oxycarboxin residue more than 200 times the regulated limit, the foundation said, adding that it was common for farmers to use several types of pesticides on cowpeas at once.
Cheng Cheng-yung (鄭正勇), member of the foundation's food commission and a professor of horticulture at National Taiwan University, said because vegetables are often harvested in batches instead of being picked all at one time, various pesticides can accumulate on the plants over time. The used of mixed pesticides could affect consumers' livers and damage their health, Cheng said.
Buying from organic stores is no guarantee of purity.
The survey said a sweet pepper purchased from an organic food store had six types of pesticides, including one type banned from use on sweet peppers and one type that exceeded the regulated amount.
The foundation said consumers can reduce their pesticide intake by not buying fruit and vegetables based just on their good appearance, buying vegetables in bags, soaking vegetables in water for at least 15 to 20 minutes before cooking, not putting lids on pots when cooking vegetables so pesticide residues can evaporate and not consuming the sauce or water left in a dish of cooked vegetables.
The Council of Agriculture said it would increase inspections on such vegetables and fine farmers who violate the Agro-pesticide Act (農藥管理法) more than NT15,000. It said it would also assist local agencies to establish agricultural product safety self-management mechanisms.
The council said it would hold at least 100 workshops in major vegetable production areas to instruct farms on appropriate pesticide usage, adding that farmers who do not attend the workshops would be a priority in future pesticide inspections.
Comments will be moderated. Keep comments relevant to the article. Remarks containing abusive and obscene language, personal attacks of any kind or promotion will be removed and the user banned. Final decision will be at the discretion of the Taipei Times.