SERVICES PACT: Laundry and car rental firms fear squeeze on profit
Taiwanese industries should join forces in petitioning President Ma Ying-jeou's (馬英九) administration to reconsider its trade policies, Taichung City Laundry and Cloth Dying Industry Union chairman Cheng Chun-sung (鄭俊松) said in response to Friday's signing of a service trade agreement between Taiwan and China.
Cheng said Taiwan's laundry and cloth dying industry has already been severely impacted by the tepid economy and the signing of the agreement with China would only add to the problems faced by local businesses.
As the cloth dying and laundry industry has a very low capital-entry requirement and overheads are also comparatively low, the sector had been very competitive to begin with, Cheng added.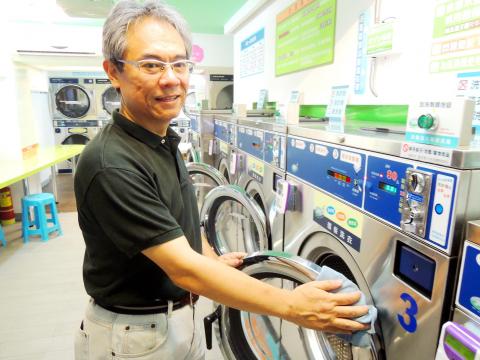 Hsiang Wei-kuo, the owner of a laundromat in Taipei, polishes a washing machine on Friday.
Photo: Weng Yu-huang, Taipei Times
However, the government's failure to invigorate the economy in recent years has led to an at least 20 percent drop in clientele, Cheng said, adding that once Chinese investors start setting up businesses in Taiwan, "it would be the last straw for the sector."
Hsiang Wei-kuo (項維國), the owner of a laundromat in Taipei, agreed with Cheng's assessment, adding that the industry was by its nature one of low income.
"With greater financing, Chinese investors could drive local firms out of business," Hsiang said.
The 57-year-old Hsiang said the laundromat industry has a high density in Taiwan, especially in urban areas, adding that due to strong competition, prices for clothes laundry services have fallen steadily over the past decade.
"Many store owners have also been driven out of business because they were unable to afford newer machines," Hsiang added.
Increased awareness of environmental protection has also led a decrease in the numbers of more traditional laundry outlets, Hsiang said, adding that many of these were forced to either close or join a chain which could afford machinery designed to be more environmentally friendly.
"Chinese investors have that kind of capital [required for new machines], and would place local businesses at a disadvantage, if not threaten an outright collapse," Hsiang said.
Another laundromat owner in Greater Taichung said that his is a small store that only makes a small profit by dint of his good-quality service and long years in business.
"The agreement the government has signed is going to open the floodgates to Chinese capital and drown Taiwanese businesses in the laundry industry," the owner said.
Meanwhile, Taiwanese car rental companies are also protesting against the signing of the cross-strait service trade agreement, which would allow Chinese firms to invest in the industry.
An owner of a small rental company in Greater Kaohsiung which has been in business for 15 years said the industry has already weathered its first crisis after Carplus and Easyrent entered the market a decade ago.
Once Chinese investment begins to flow into the car rental sector, it could be the catalyst for a price war, the owner said, adding that this could eliminate profits.
The owner of a car rental firm in Hualien County said that when the larger rental chains moved into the county, they secured more than 50 percent of profits in the sector, adding that if Chinese investors are allowed to establish a presence in Taiwan, smaller car rental companies would be hard pressed to survive.
According to Wu Shun-chieh (吳順傑), chairman of the Taipei City Compact Car Rental Trade Union, the number of legally registered car rental agencies nationwide is between 700 and 800, although if unregistered and privately run agencies are included, then that number would easily exceed 1,000.
"Allowing Chinese investment into Taiwan would be equivalent to impacting the livelihoods of thousands of families working in the car rental industry," Wu said.
Wu said he would be launching a signature drive with others in the industry to ask the government to come up with a set of measures to guarantee the survival of local companies.
Additional reporting by Yang Ya-min
Comments will be moderated. Keep comments relevant to the article. Remarks containing abusive and obscene language, personal attacks of any kind or promotion will be removed and the user banned. Final decision will be at the discretion of the Taipei Times.