Lawmakers, groups urge rethink on care of elderly
CARE SERVICES: Lawmakers said that privatizing nursing care of the elderly could result in exploitation of nursing staff and unfairly affect existing non-profit organizations
Lawmakers and civic groups yesterday voiced their opposition to a government plan to allow insurance companies to run nursing homes, saying that it may commercialize the long-term care sector.
"Care of elderly people is not a commodity and should not be commercialized," Taiwan Solidarity Union Legislator (TSU) Lin Shih-chia (林世嘉) told a press conference at the legislature in Taipei yesterday.
In a meeting of the Executive Yuan's Promotion of Private Participation in Public Infrastructure Projects Commission last week, the proposed relaxing of regulations in the Senior Citizens Welfare Act (老人福利法) to allow for-profit enterprises to run long-term care (LTC) facilities received the support of the Executive Yuan.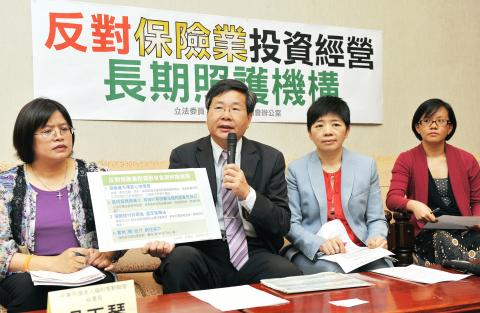 From left to right, Wu Yu-chin, secretary-general of the Foundation for the Welfare of the Elderly, Taiwan Solidarity Union legislators Hsu Chung-hsin and Lin Shih-chia, and Awakening Foundation policy director Tan Yu-jung attend a press conference in Taipei yesterday opposing plans to open certain care services to insurance companies.
Photo: Chien Jung-fong, Taipei Times
In addition to leading to unequal distribution of resources, privatizing services may result in exploitation of nursing staff since it is natural for private businesses to maximize profits, she said.
Lin was reacting to a proposal by the Financial Supervisory Commission (FSC) to allow insurance firms access to the LTC industry.
"Although the Ministry of Finance and the Department of Health both support the proposal, I am concerned that if insurance firms are allowed to operate in this sector, they would unfairly compete with government and non-governmental organizations," TSU Legislator Hsu Chung-hsin (許忠信) said.
Hsu said that if insurance firms are granted access to the sector, new kinds of LTC insurance products would be on offer that are not "cashed in," but are paid in the form of home or community-services benefits.
"However, the current Insurance Act (保險法) clearly states that the insured amount must be specified in an insurance contract," Hsu said. "Allowing non-cash benefits without proper supporting measures and government supervision would affect the rights of the insured."
Awakening Foundation policy director Tan Yu-jung (覃玉蓉) highlighted the dangers of allowing large private companies — as well as foreign firms — into the market.
"If we don't have a healthy government-backed long-term care system in place, who is going to take over if large corporations decide to withdraw?" Tan asked.
"The government also plans to bring in foreign capital for care of the elderly, which includes Chinese capital — are we going to look to China for such care?" she asked.
Foundation for the Welfare of the Elderly secretary-general Wu Yu-chin (吳玉琴) also voiced concern over the proposals.
"The FSC cited Japan as an example of allowing private companies into the care sector. However, before implementing such a move, the Japanese government built a strong government-backed public insurance system," Wu said.
"Also, the role of businesses in the Japanese care industry is limited to at-home care," Wu added.
Wu said the groups have vowed to block any revisions to the Senior Citizens Welfare Act, which requires LTC service providers to be non-profit organizations.
Comments will be moderated. Keep comments relevant to the article. Remarks containing abusive and obscene language, personal attacks of any kind or promotion will be removed and the user banned. Final decision will be at the discretion of the Taipei Times.