Majority of people clueless about risks of hypertension: poll
More than 70 percent of Taiwanese lack adequate knowledge about the complications of hypertension and 65 percent do not check their blood pressure regularly, the Health Foundation of Millenary Love said yesterday.
A survey conducted by the foundation shows that 81.6 percent of those polled do not exercise every day, 65.2 percent do not have regular blood pressure checks and 64.5 percent said they would not visit a doctor or have check-ups if diagnosed with hypertension.
The poll also found that 70.8 percent of the people surveyed do not properly understand the complications of hypertension, foundation board member Tsai Keh-sung (蔡克嵩) said, adding that possible complications include visual disturbances, stroke, angina pectoris — chest pain typically caused by an obstruction or spasm of the coronary arteries — heart failure and heart attack.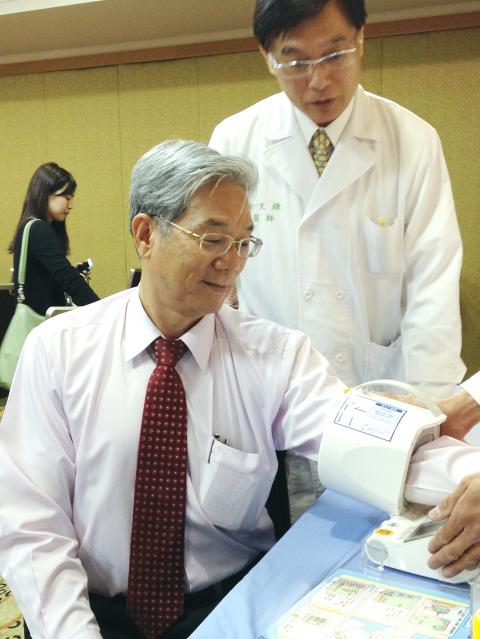 Taiwan Hypertension Society director-general Chen Wen-jone, right, yesterday gives guidance to a man as he measures his blood pressure at an event in Taipei organized by the Health Foundation of Millenary Love.
Photo: Chiu I-chun, Taipei Times
"Our survey showed that 34 percent of participants did not know that high blood pressure can damage the kidneys," making kidney damage the least-known complication of hypertension, Tsai said.
Taiwan Hypertension Society director-general Chen Wen-jone (陳文鐘) said raising awareness about hypertension can save lives because it is easily diagnosed and can be completely controlled with treatment.
"According to statistics compiled by the Bureau of Health Promotion, it is estimated that about 1.6 million of the 4.3 million patients with hypertension in Taiwan are not aware that they have the condition," Chen said. "The hypertension control rate in Taiwan is 30.4 percent, which is higher than that of many European countries, but not as high as in Japan, with 52.4 percent and the US with 50.1 percent."
Self-management is crucial for those with high blood pressure, Chen said.
"Those with a blood pressure reading of 160/100 mmHg [millimeter of mercury] should seek medical attention immediately, while someone with a reading of 140/90 mmHg does not qualify as having hypertension, but should monitor his or her blood pressure for a week and go to a doctor if the level remains the same."
Chen added that while 140/90 mmHg should be seen as a threshold, it should apply only to "office blood pressure," meaning that it is a normal level only for people who are in the workplace.
"'Home blood pressure' — meaning when the person is at home, where they usually feel more relaxed — should not exceed 135/85 mmHg," Chen said.
The foundation, which is sponsored by Uni-President Enterprises Corp, also found that 51.6 percent of those surveyed who do not measure their blood pressure regularly said they fail to do so because they do not own a blood pressure meter.
Given this, 575 community health stations started providing free blood pressure checks this year and meters are being placed at 7-Eleven convenience stores nationwide.
Comments will be moderated. Keep comments relevant to the article. Remarks containing abusive and obscene language, personal attacks of any kind or promotion will be removed and the user banned. Final decision will be at the discretion of the Taipei Times.