Anti-nuclear rally held in Taipei
About 300 people held up two-sided yellow and black boards to form the English word "Stop" in front of the legislature in Taipei yesterday afternoon to protest against the proposed national referendum on the construction of the Fourth Nuclear Power Plant in Gongliao District (貢寮), New Taipei City (新北市), that is likely go to a second vote this week.
The demonstrators were mainly young people, a few with small children, but some middle-aged people were also present. The protest wasorganized by the National Nuclear Abolition Action Platform, an alliance of several civic groups advocating an end to nuclear power in Taiwan.
Flipping the boards in unison, the demonstrators shouted "Stop" in response to the organizers when they called out: "dangerous nuclear power," "10,000 years of nuclear waste" and "bird-cage referendum," to demand that lawmakers put a stop to nuclear power plants.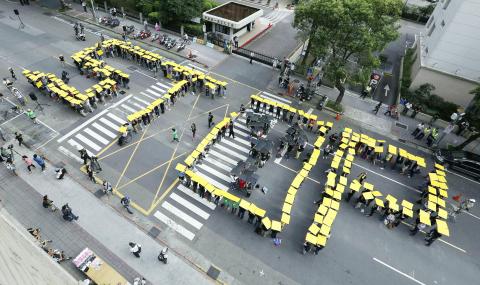 Protesters holding yellow signs yesterday form the word "Stop" outside the Legislative Yuan in Taipei to call for end to nuclear power in Taiwan.
Photo: Patrick Lin / Reuters
The alliance said that although the nuclear-free marches held on March 9 drew more than 220,000 participants across the nation, they represented only a part of the civic anti-nuclear force, citing several public opinion polls showing that up to 70 percent of the public oppose completing the Foruth Nuclear Power Plant.
However, due to the phrasing of the referendum question proposed by the Chinese Nationalist Party (KMT) and the Referendum Act's (公民投票法) requiring more than 50 percent of registered voters for a plebiscite to pass, the plant's completion will be approved if fewer than 9.15 million people vote against it, the alliance said.
The protesters then flipped their boards one at a time to symbolize how "a single spark can start a prairie fire" — one of the main themes of the anti-nuclear movement.
Green Citizen Action Alliance secretary-general Tsuei Su-hsin (崔愫欣) said that although the anti-nuclear groups and individuals may seem insigficant and scattered, the government should not underestimate the collective strength of civil society.
Later, holding a long yellow banner that read "refuse nuclear power, terminate the Fourth Nuclear Power Plant," the demonstrators encircled the Legislative Yuan as they sang a song by the Labor Exchange Band (交工樂隊) called Nuclear-Free Homeland March.
After the demonstration ended in the evening, an event was held at a stage set up by the Legislative Yuan in which anti-nuclear activists and public figures from various sectors of society spoke on nuclear issues. After the speeches, musicians, including Blackhand Nakashi (黑手那卡西) and Hakka singer-songwriter Lin Sheng-xiang (林生祥), performed to show their support for the cause.
Comments will be moderated. Keep comments relevant to the article. Remarks containing abusive and obscene language, personal attacks of any kind or promotion will be removed and the user banned. Final decision will be at the discretion of the Taipei Times.