Hospital releases avian flu patient after 35 days
RECOVERY: The patient expressed his appreciation to medical staff and his family for their support, and said he was sorry for causing a scare after being infected in China
The first Taiwanese patient to be hospitalized with H7N9 avian influenza has recovered and was discharged after 35 days in hospital, National Taiwan University Hospital (NTUH) said at a press conference yesterday.
The imported infection is the only instance of H7N9 avian flu reported so far outside of China, where 130 confirmed cases causing 36 deaths have been reported to date, the hospital said.
"The patient, Mr Lee, developed symptoms of fever, night sweats and fatigue, but did not suffer respiratory tract or gastrointestinal problems, a few days after returning from China on April 9," NTUH deputy superintendent Chang Shan-chwen (張上淳) said.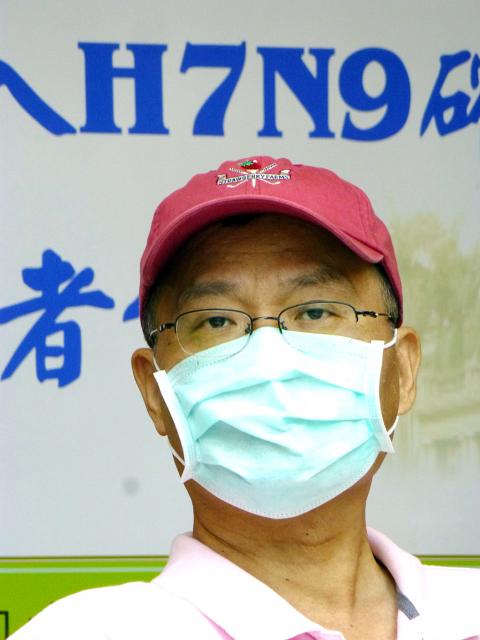 After recovering from avaian flu, a man surnamed Lee attends a news conference announcing his discharge from hospital in Taipei yesterday.
Photo: David Chang, EPA
"On April 16 he had a temperature of 40oC and was hospitalized and treated with Tamiflu [at Taipei Medical University Hospital]," Chang added.
"On the night of April 19 the patient started to experience shortness of breath," Chang said.
"The next day a chest X-ray showed he had pulmonary infiltrates in both of his lungs and he was immediately referred to NTUH, where he was treated with a double dose of Tamiflu, intubated for respiratory failure and quarantined in a negative-pressure room," Chang added.
The patient then received extracorporeal membrane oxygenation (ECMO) treatment on April 22 due to the deterioration of his breathing and was given an intravenous injection of peramivir on April 24, the hospital said.
Lai Hong-shiee (賴鴻緒), director of the hospital's surgery department that was responsible for the ECMO treatment, said that similar to SARS, H7N9 can cause a "cytokine storm," in which immune cells signaled by cytokine to fight invading pathogens go out of control and overreact.
"A cytokine storm occurred in the patient and anti-cytokine drugs were administered," Chang said, while emphasizing that as this is the nation's only reported H7N9 infection, there is insufficient evidence to conclude that anti-cytokine therapy was key to Lee's recovery.
As a result, no standard operating procedure for the treatment of H7N9 has yet been established, Chang said.
Despite once being in critical condition and requiring dialysis, the patient was taken off ECMO on May 2, was decannulated and taken off a ventilator on May 7, and was transferred to a general ward two days later, NTUH said.
The hospital again confirmed that two throat swabs collected before the patient was sent to NTUH tested negative for the H7N9 virus, and it was not until an endotracheal aspirate was collected during intubation that the H7N9 infection was confirmed, first by NTUH medical technologists, and later by the Centers for Disease Control.
Lee, who was also present at the press conference, expressed his appreciation to medical staff and to his family for their support, and apologized "for having caused a scare due to my lack of care that led to the infection."
Meanwhile, in Washington, Taiwan's representative to the US King Pu-tsung (金溥聰) yesterday expressed his appreciation to the US for helping Taiwan in its efforts to produce a vaccine against human infection by the H7N9 virus.
The US Centers for Disease Control and Prevention (CDC) promised last month to share its results in developing a H7N9 vaccine with Taiwan.
In line with that commitment, a H7N9 master donor virus provided by the CDC was delivered to Taiwan recently, King said.
The cooperative effort was part of the Pandemic Influenza Preparedness Framework under the WHO.
King said such cooperation is helpful in expanding Taiwan's participation in the operations of the WHO.
Earlier this month, King visited Nils Daulaire, assistant secretary for global affairs at the US Department of Health and Human Services, to discuss the possibility of future bilateral and multilateral cooperation, with a view to expanding Taiwan's involvement in the global disease control and prevention network.
Additional reporting by CNA
Comments will be moderated. Keep comments relevant to the article. Remarks containing abusive and obscene language, personal attacks of any kind or promotion will be removed and the user banned. Final decision will be at the discretion of the Taipei Times.