DPP defuses 'Chen bomb' ahead of party congress
The Democratic Progressive Party (DPP) is set to focus on the issues of its primary format and member rights regulation at its party congress today after defusing a potential spat over a bid to readmit imprisoned former president Chen Shui-bian (陳水扁) to the party.
DPP Legislator Mark Chen (陳唐山), convener of the One Country, One Side Alliance, founded by the former president, said yesterday afternoon that he has withdrawn a proposal to reinstate Chen Shui-bian's membership.
Chen Shui-bian quit the party in August 2008.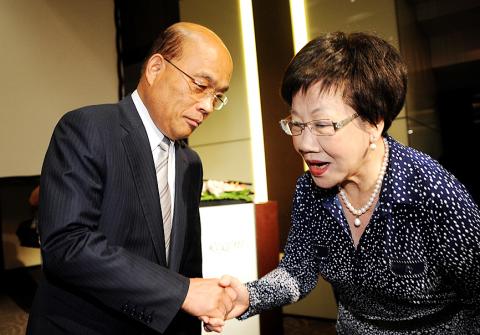 Democratic Progressive Party Chairman Su Tseng-chang, left, shakes hands with former vice president Annette Lu during an event yesterday in which the Egret Culture and Education Foundation donated mementos related to former legislator Lu Hsiu-yi at Academia Historica yesterday.
Photo: Liu Hsin-de, Taipei Times
The DPP's Central Standing Committee agreed on Wednesday that the former president, who is serving a 20-year sentence for corruption, could directly apply for a membership by going through the standard process, which begins with a local office's preliminary review, before a final review of a special panel at party headquarters.
The resolution was seen as an invalidation of Mark Chen's proposal, which had been endorsed by hundreds of DPP members who say the former leader has suffered political persecution at the hands of President Ma Ying-jeou (馬英九) administration and the DPP should welcome him back and seek justice for his case.
However, Mark Chen had no intention of pulling his the proposal until yesterday.
The withdrawal, at least temporarily, defused a ticking time bomb that could have disrupted today's congress because Chen's rejoining the party remains a divisive topic. Those opposed to it say his return would likely jeopardize the party's image.
Former vice president Annette Lu (呂秀蓮) said yesterday that while Chen Shui-bian has the right to apply for membership, his health and a medical parole should be prioritized over politicial considerations.
Playing down the focus on the former president, former premier Frank Hsieh (謝長廷) said the DPP should handle the membership application issue with a uniform standard to highlight it would be a party which rules by law.
Other issues on the congress agenda include the party's primary format as well as regulations on members' right to vote and to be elected — both major factors that could impact the seven-in-one elections next year and the DPP's primary for the 2015 presidential election.
The party has been mulling the reinstatement of party-member voting in its primaries for elections to replace the current mechanism that determines party nominations solely on public opinion polls — a change made by Su's predecessor, Tsai Ing-wen (蔡英文), due to complaints from party members.
However, recent controversies surrounding reported cases of mass applications, the involvement of gangsters and the party's oft criticized nominal member system appeared to have changed the momentum as many members worried that the member-voting mechanism would be exploited by political infighting.
Tsai said in a press release yesterday that her insistence on retaining the current mechanism due to the old format's "systemic risk."
She voiced support a measure announced by Su earlier this month, which stipulates tthat to vote in the party primary members must have belonged to the party for at least two years, as opposed to the previous one-year requirement.
While the change would strip the new members' right to vote and to be elected, she said, the risk of gangsters' influence would be "too much to take."
Other proposals expected to be submitted to a vote at the congress also include a "Resolution on Human Rights Exchanges Across the Taiwan Strait," which aimed at shifting the direction of bilateral engagement from politics and economics to universal values of democracy and human rights, and an initiative that calls for holding a China policy debate to build a party consensus on the direction of future cross-strait engagement.
Comments will be moderated. Keep comments relevant to the article. Remarks containing abusive and obscene language, personal attacks of any kind or promotion will be removed and the user banned. Final decision will be at the discretion of the Taipei Times.