Algal reefs found off Hsinchu County
PROTECTION EFFORT: The Association for Sustainable Development of Wetlands and others are working to document the reefs as well as educate the public about them
At least 4 hectares of algal reefs have been discovered along the coast 2km north of the Sinfong River in Sinfong Township (新豐), Hsinchu County, a discovery academics say is indicative of the biodiversity of the area.
Algal reefs are formed by crystalline calcium carbonates left by dead calcareous algae. They grow just 0.1cm to 0.2cm in thickness per year, and usually share a symbiotic relationship with coral reefs.
Organic reefs are a rare sight on Taiwan's western coast because it is largely comprised of sandy terrain, and they have only been found on the north coast — an area that includes the coastal area between New Taipei City's (新北市) Tamsui District (淡水) and Wanli District (萬里) — as well as the coast around Taoyuan County's Guanyin Township (觀音) and the coastal area around Hengchun Township (恆春) in Pingtung County.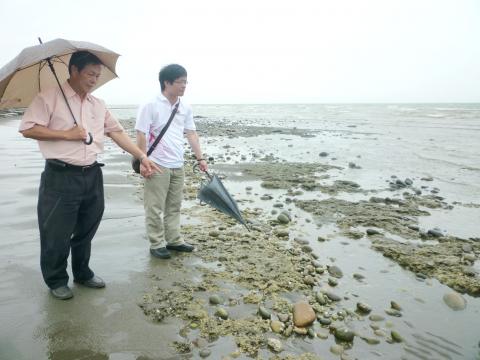 Two members of the Association for Sustainable Development of Wetlands in Hsinchu County point to some algal reefs near Sinfong Township on Thursday last week, saying that the reefs show the diversity of the local ecological system.
Photo: Liao Hsueh-ju, Taipei Times
When Hsinchu County's Association for Sustainable Development of Wetlands discovered the possibility of an algal reef north of Sinfong last year, it contacted Liou Ching-yu (劉靜榆), of the Council of Agriculture's Endemic Species Research Institute, to confirm the findings.
The association was established in February 2010 after the Hsinchu County Government — as well as the Sinfong Township Office — became determined to protect Sinfong's mangroves.
The association had started training staff for tours and enhancing environmental protection education programs in nearby schools, said association chairman Tai Yu-shu (戴玉樹), who is Sinfong's representative.
Thanks to a subsidy from the Construction and Planning Administration, the association was able to begin documenting the fauna in the area as well as enforcing the protection of the environment, Tai said.
The association also started a tourist service desk in January to provide information for tourists during holidays, Tai said.
The reef was discovered by association members who had noticed a great diversity of fish in the area, said Lee Chen-yu (李鎮宇), the association's executive officer.
There were fish with high economic value such as the flathead mullet and yellow croakers, and other types of fish that are only found in coral reefs, Lee said, adding that further investigation showed there was an algal reef nearby.
The algal reef has conservatively been estimated to cover at least 4 hectares, stretching along the coast north of the Sinfong River to the beaches south of Potou Fishing Harbor, Lee said.
Sediment drifts and rocks moved by tidal forces may have covered most of the algal reef from sight, Lee said, adding that it could be as large as 6 hectares or 7 hectares.
However, there is only about a 1 percent chance of the reef being "alive," Lee said.
Meanwhile, environmental protection groups in Taoyuan County are campaigning to establish a natural reserve for new algal reef formations.
The organization held a press conference with legislators yesterday, demanding that the central government launch an investigation into what seems like industrial waste water contamination that they say is harming algal reefs.
The organization said it sponsored a hike last month to help promote the establishment of a preserve for algal reefs.
Comments will be moderated. Keep comments relevant to the article. Remarks containing abusive and obscene language, personal attacks of any kind or promotion will be removed and the user banned. Final decision will be at the discretion of the Taipei Times.