Taipei-Manila talks can start now: Ma
SEPARATE ISSUES: The president said that despite the shooting incident being under investigation, talks on a pact could begin as this would benefit fishermen on both sides
Talks on a fishery agreement between Taiwan and the Philippines can begin immediately, and should not be affected by the ongoing investigation into the incident that resulted in the death of Taiwanese fisherman Hung Shih-cheng (洪石成), President Ma Ying-jeou (馬英九) said yesterday.
In an interview with Chinese-language broadcaster China Television scheduled to air today, Ma insisted that the Philippine government should offer a formal apology for Philippine Coast Guard personnel's shooting of a Taiwanese fishing boat on May 9 in overlapping territorial waters, and promise to compensate Hung's family.
However, negotiations on a fishery agreement can still begin at any time, as such an agreement would provide fishermen from both sides with more guidelines and protection while operating in disputed waters.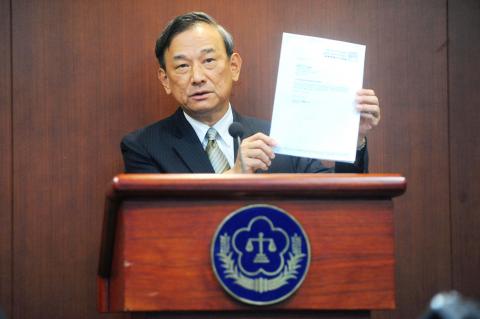 Vice Minister of Justice Chen Ming-tang responds to the Philippines' request for mutual legal assistance at a press conference yesterday.
Photo: CNA
"Negotiation on a bilateral fishery agreement doesn't have to wait until the shooting investigation is over," he said.
Ma made the comments in response to Philippine President Benigno Aquino III's remarks yesterday that his administration will start fishery talks with Taiwan and other neighboring countries once the shooting incident is resolved.
Ma said the four demands his administration gave to Manila — to apologize for the incident, punish those responsible for the killing, compensate the victim's family and start negotiation on fisheries agreement — had not been met, so the 11 sanctions Taiwan has imposed against the Philippines would continue.
"The Philippine government said it is still investigating the incident, but it should make its stance on the matter clear now. Our demands are reasonable and the Philippine government needs to apologize to Taiwanese citizens," he said.
Taipei and Manila have agreed to cooperate while carrying out separate investigations into the incident under a bilateral mutual judicial assistance agreement signed earlier this year and both sides are negotiating over how to cooperate before each sends an investigative team to the other side to complete their individual investigation reports.
Later in the day, while presiding over a Chinese Nationalist Party's (KMT) Central Standing Committee meeting, Ma said the government did not want the incident to affect Taiwan's relations with the Philippines, but that Taipei would also not allow any similar incidents to happen again.
"We cannot rely solely on others' goodwill. We must rely on our own strength. It is the government's duty to protect the rights and safety of our fisherman, and the Coast Guard Administration will continue to patrol wherever our fishermen are operating," he said.
Minister of Foreign Affairs David Lin (林永樂), who presented a report on the ministry's handling of the incident at the committee meeting, called on Taiwanese to treat Filipino workers in Taiwan reasonably and with friendliness, even as he emphasized that two stories about Filipino workers being denied food by vendors had turned out to be false.
Ma said he has instructed government agencies to protect Filipino workers.
"We are a civilized society, and we should not shift the blame for the Philippine government's unjust actions the Filipino people living in Taiwan," he said.
Comments will be moderated. Keep comments relevant to the article. Remarks containing abusive and obscene language, personal attacks of any kind or promotion will be removed and the user banned. Final decision will be at the discretion of the Taipei Times.