Anti-nuclear activists signal their intent
In preparation for an anti-nuclear parade this afternoon, the Taiwan Environmental Protection Union — which is organizing the protest — and a number of Aboriginal activists staged a demonstration on Ketagalan Boulevard in front of the Presidential Office in Taipei yesterday morning.
The activists said the parade expressed their determination to prevent nuclear waste from being disposed of in Aboriginal areas.
Sending up smoke signals on Ketagalan Boulevard reflected the traditional signaling method used by the nation's Aboriginal tribes, the anti-nuclear activists said, adding that the action was taken to summon more people to participate in today's parade.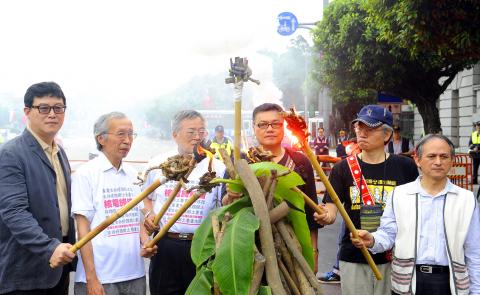 Aboriginal representatives and members of the Taiwan Environmental Protection Union and other groups prepare to send smoke signals on Ketagalan Boulevard in Taipei yesterday to highlight this afternoon's anti-nuclear parade.
Photo: George Tsorng, Taipei Times
"When natural disasters occur, or when Aboriginal tribes are being attacked by their enemies, the head of the tribe gathers young people to light a fire as quickly as they can," and the smoke from the fire is used to call for help an Amis Aborigine said.
Jiru Haruq, a priest from Hualien County's Sioulin Township (秀林), said that one of the sites being considered as a spent nuclear fuel repository is in Sioulin, but when Taiwan Power Co carried out exploratory drilling at the site for evaluation purposes, it only told the village head that the drilling was for making tunnels.
It is wrong of the government to take advantage of people's lack of knowledge about nuclear power and seek to dispose of nuclear waste in these areas, he added.
Nuclear-Free Homeland Alliance executive director Lee Cho-han (李卓翰) said the government should not think about expanding the use of nuclear power when it has not solved the problem of nuclear waste disposal.
The assembly point for the anti-nuclear parade is at Sun Yat-sen Memorial Hall at 2pm today.
The parade will set out at 3pm and is scheduled to reach Ketagalan Boulevard at 5pm, where an evening event will be held until 8pm.
Comments will be moderated. Keep comments relevant to the article. Remarks containing abusive and obscene language, personal attacks of any kind or promotion will be removed and the user banned. Final decision will be at the discretion of the Taipei Times.