Anti-nuclear rally to be held on Sunday: group
POWER TO THE PEOPLE: The Taiwan Environmental Protection Union says political groups are welcome to join the rally if they are willing to listen to the public
The Taiwan Environmental Protection Union (TEPU) yesterday said it would hold a rally on Sunday in Taipei to raise public awareness about a proposed referendum on the fate of the Fourth Nuclear Power Plant and gain support for the abolition of nuclear power.
TEPU founding chairperson and Citizen Congress Watch chairman Shih Hsin-min (施信民) said the group does not oppose referendums per se, but the structurally flawed "birdcage referendum act" which makes it nearly impossible for any referendum to pass.
"Such an important issue as deciding the fate of the Fourth Nuclear Power Plant in New Taipei City's (新北市) Gongliao District (貢寮), should be held under a healthy referendum mechanism," he said.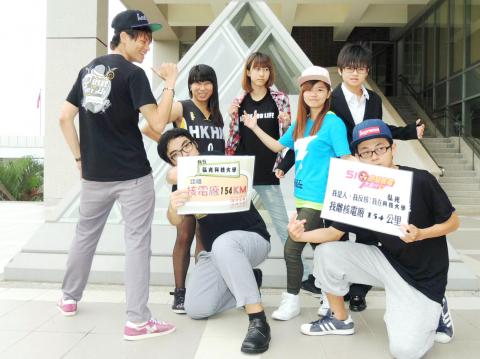 Students at Hungkuang University in Greater Taichung's Shalu District hold an anti-nuclear campaign during lunch break yesterday.
Photo: Ou Su-mei, Taipei Times
The Referendum Act (公民投票法) requires at least 50 percent of eligible voters to vote for the result of a referendum to become valid, which means about 9.1 million people have to come out and vote, the gorup said.
Moreover, given the restrictions of the Referendum Act and the phrasing of the referendum question, "even if 9 million voters came out to vote against the nuclear power plant, and only one person voted in support of it, the Fourth Nuclear Power will still be approved for operation," said Kao Cheng-yan (高成炎), TEPU's anti-nuclear team convener and the commander-in-chief of the parade.
"We do not expect to attract as many people as the anti-nuclear parade in March, but we invite anyone who is against nuclear power to participate on Sunday. Political figures are also welcome," Kao said, adding that the group has never rejected participation by political parties since it started holding anti-nuclear parades in the 1990s.
"The nuclear power issue in Taiwan has always been a political issue, and if political figures are willing to listen to public opinion through the parade, of course they are welcome to join," Kao added.
The parade will be grouped into four teams — victims of nuclear power, civic groups, political parties and an anti-corruption team.
"Nuclear power is not safe," Taiwan Association of University Professors' deputy chairman Shiu Wen-tang (許文堂) said. "Accidents will happen, and its only a matter of the scale of the accident."
"Neither is nuclear power cheaper," and a small island like Taiwan should not be spending billions of dollars to dispose of high-level nuclear waste for decades to come, Shiu aded.
The parade will set out from Sun Yat-sen Memorial Hall at 3pm and should arrive at Ketagalan Boulevard by 5pm, where an evening event will be held until 8pm, when representatives would walk to the front gates of the legislature to begin a 24-hour fast.
Comments will be moderated. Keep comments relevant to the article. Remarks containing abusive and obscene language, personal attacks of any kind or promotion will be removed and the user banned. Final decision will be at the discretion of the Taipei Times.