Sand sculpture art fest opens Saturday
CHILDHOOD MEMORIES: Sand artists from 16 nations and their local counterparts are creating 77 sculptures of comic and movie characters to lure visitors of all ages
Fulong Beach's annual sand sculpture extravaganza opens on Saturday, offering visitors a trip down memory lane as local and foreign artists endeavor to transform ordinary sand into extraordinary sculptures depicting an array of characters from comic books and movies.
The annual beach extravaganza in New Taipei City (新北市) was opened to international competitors for the first time this year, attracting dozens of sand artists from 16 countries — including Japan, the Netherlands, the UK, Mexico, Spain, Ireland and Canada, said Liu Shih-ming (劉士銘), deputy director of the Northeast and Yilan Coast National Scenic Area Administration.
With "childhood memories" as the theme, Liu said participants had completed about 80 percent of the 77 sand sculptures to be featured at the festival and would continue working until tomorrow.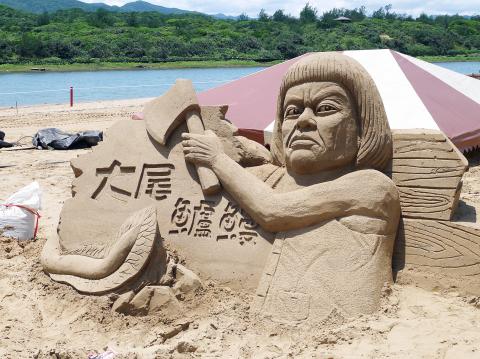 A sand sculpture of entertainer Chu Ko Liang, the lead actor in the movie David Loman, stands on Fulong Beach in New Taipei City on Monday.
Photo: Wang Ying-chieh, Taipei Times
The event, which offers cash prizes totaling NT$1 million (US$33,765), will be open to the public starting at 10am on Saturday and run through June 30, Liu said, adding that visitors who arrive before noon on opening day would be offered free admission.
Tai Wen-chi (戴文基), vice general manager of Fullon Hotels and Resorts' Fulong branch, a co-organizer of the event, said this year's sand sculptures mainly feature characters from classic cartoons, comic books and movies, and would appeal to visitors of all ages.
Talking about the inspiration for his sand sculpture, Canadian artist Jonathan Bouchard said he was fond of painting when he was a child, so he made a sculpture of a boy drawing dragons on a piece of paper.
A sand sculpture of South Korean singer Psy stands on Fulong Beach in New Taipei City on Monday.
Photo: Wang Ying-chieh, Taipei Times
"This work is particularly difficult to sculpt because it requires sophisticated techniques to sand carve a thin [sheet of] paper," Bouchard said.
The highlights of the festival include works featuring the popular Japanese manga series One Piece, South Korean animation character Pororo the Little Penguin and TV characters the Teletubbies.
Lifelike sand portraits of celebrities, including the Beatles, South Korean rap sensation Psy, Oscar-winning Taiwanese filmmaker Ang Lee (李安), Taiwanese veteran comedian Chu Ko Liang (豬哥亮) and Taiwanese pitcher Wang Chien-ming (王建民), will also be showcased at the festival, organizers said.
Comments will be moderated. Keep comments relevant to the article. Remarks containing abusive and obscene language, personal attacks of any kind or promotion will be removed and the user banned. Final decision will be at the discretion of the Taipei Times.