TSU member tries to throw chicken at Ma
A pan-green supporter yesterday failed in an attempt to throw a chicken at President Ma Ying-jeou (馬英九) during Ma's visit to Greater Tainan to attend a forum with local Chinese Nationalist Party (KMT) members.
Taiwan Solidarity Union (TSU) Tainan City branch director Chen Chang-hui (陳昌輝) protested against Ma's visit outside the building of the KMT's Tainan branch, and tried to throw a live chicken at Ma when he arrived.
His attempt failed after security guards blocked him 20m from the president and seized the chicken.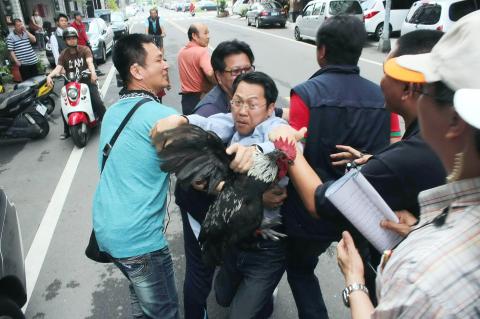 Taiwan Solidarity Union Tainan City branch director Chen Chang-hui is blocked by security guards as he tries to throw a live chicken at President Ma Ying-jeou to protest against the government's H7N9 avian influenza policies when Ma visited Greater Tainan yesterday.
Photo: Lin Meng-ting, Taipei Times
Shouting "Step down, Ma Ying-jeou," Chen said the protest was aimed at highlighting the Ma administration's poor handling of anti-avian flu efforts following the nation's first case of H7N9 avian influenza last week.
Ma, who also serves as KMT chairman, kept to his schedule and met with party members to discuss government policies, including the pension reform efforts and the construction of the Fourth Nuclear Power Plant in New Taipei City's (新北市) Gongliao District (貢寮).
The president said that the Labor Pension Fund and the pension fund for retired military personnel, teachers and civil servants are set to become bankrupt in 2019 and 2031 respectively, if the government did not begin pension reform now.
"I cannot leave this issue unsolved because the bankruptcy of the funds won't happen during my term. I must plan for the next generations," he said.
As to the controversies about the construction of the nuclear plant, Ma said issues such as electricity fees and electricity restrictions should be considered when determining whether to continue the construction of the plant.
The government has proposed a national referendum to determine the future of the plant. The proposed referendum cleared a vote in the legislature last week, paving the way for the plebiscite proposal to be passed in June.
If the proposal passes a second and third reading, a referendum would be held no sooner than one month and no later than six months later, without being subject to a screening by the Executive Yuan's Referendum Review Committee.
Comments will be moderated. Keep comments relevant to the article. Remarks containing abusive and obscene language, personal attacks of any kind or promotion will be removed and the user banned. Final decision will be at the discretion of the Taipei Times.