FEATURE: Bali mechanic has found no car he couldn't restore
To most people, a decade-old car with a broken engine and rusty parts is a piece of junk heading for the scrap metal yard. However, to a master car mechanic in New Taipei City (新北市), it presents a challenge: restoring it to its former glory.
Cheng Chueh-lu (鄭爵祿), 60, runs an auto repair shop in the city's Bali District (八里).
About a dozen run-down cars are parked outside Cheng's shop waiting to be restored.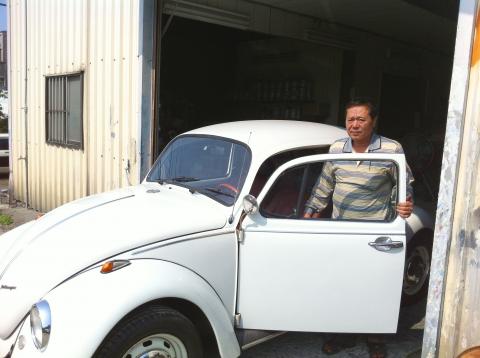 Mechanic Cheng Chueh-lu stands next to a restored Volkswagen Beetle at his workshop in New Taipei City's Bali District on April 12.
Photo: CNA
His friends, many of whom own antique cars themselves, usually call Cheng by his nickname, "the Alligator."
Cheng began to work in the automotive repair trade as an apprentice when he was 15.
"Back in those days, there were very few cars in Taiwan. Only wealthy people could afford a car," he said.
"At that time, to get an apprenticeship to learn to repair cars, you had to have the right connections. Then you also had to curry favor with the boss by bringing bags of rice as gifts and you learned the trade by working with no pay," he said.
Cheng said that in the old days all repair work and parts servicing was done by hand, such as hammering and trimming sheet metal into the required shape and dimensions.
"It was like sewing torn clothing. We would cut pieces of steel, mold them into shape and weld them in place," he said.
Cheng said that nowadays, auto repair shops do not really repair cars, they "mostly just do replacement work, removing a broken piece and replacing it with a new part."
Due to his experience and skill from his long career as mechanic, and his passion for restoring old cars, Cheng started repairing antique models 20 years ago.
These days, he takes in all repair projects that come his way, no matter how old the vehicles are, how bad their condition is and whether the parts are no longer being produced.
"So far, I have not given up on any of these old cars, as long as the owner is willing to pay the costs," Cheng said.
He said it took him six-and-a-half months to repair on an elongated Rolls Royce limousine that was once owned by the late business tycoon Tang Jih-jung (唐日榮), a flamboyant man known as the "King of Beauty Pageants" and famous for flaunting his wealth and surrounding himself with beautiful women.
Cheng said that repairing antique cars is difficult — the hours are long and the costs are high.
For those looking to own a classic car, the master mechanic suggests starting with Japanese brands, such as Toyota, Nissan, Mitsubishi or Mazda, because there are still plenty of good sources for their classic model car parts in Taiwan.
Cheng's own first classic automobile was the Nissan 280Z sports car.
If a classic car catches your attention, Cheng advises checking if the current owner usually parks the vehicle in the garage, and how often they take it out for a drive.
"If old cars are driven on a regular basis, they are less likely to develop problems," he said.
Then a visual inspection is needed, to check the car's exterior and chassis for rust, Cheng said.
"If the car's main frame, the cross beam, is rusty, it will require costly repairs. It is good to do a test drive. When starting the engine, listen for strange noises. Drive it on a road with potholes, to see if any other strange noises can be heard from the chassis," he added.
Repairing classic cars is hard work, and Cheng often faces a shortage of the necessary parts.
"When servicing classic cars, I have to search for a lot of old parts. In some cases, I have to make the parts by creating a mold for die casting. At times, it feels like I am manufacturing a car from scratch," he said.
"After a new part is made, if it does not fit, we have to send it back for modification. Often a car part is reworked two or three times. In other cases, we have to throw it out and make the part again. That is the way it goes in this business," he said.
However, Cheng said he could never get tired of restoring cars.
"You get used to it. When you are doing this work day after day, it becomes a habit and it's not tiring work for me," he said.
"I have a passion for classic cars. You can see many auto repair shops all over the place where they service the same types of cars," he added.
"Antique cars are different. When they come in, the engines cannot start and they are in a shabby condition. When we are done with them, they look like new. When we hand them over to their owners, we get a feeling of satisfaction and sense of accomplishment," Cheng said.
"As long as my body is still strong, I will keep doing this until I reach age of 70," he added.
Comments will be moderated. Keep comments relevant to the article. Remarks containing abusive and obscene language, personal attacks of any kind or promotion will be removed and the user banned. Final decision will be at the discretion of the Taipei Times.