Taiwan joins WHO global immunization campaign
BOOSTER: An official said Taiwan's completion rate of the doses of hepatitis B vaccine was 'impressive' when compared with some regions, according to WHO figures
Taiwan has joined the WHO's World Immunization Week campaign, and declared the week from today through April 30 as an immunization week to raise public awareness of how immunization saves live, the Centers for Disease Control (CDC) said yesterday.
Taiwan's completion rate of various vaccines (HBV, 5-in-1, MMR, JE and VAR) for children under the age of three is as high as 94.1 percent, with the rate of primary doses exceeding 96 percent and the rate of booster doses exceeding 92 percent, CDC data showed.
"According to a general check of vaccine record cards held by first-graders, the completion rate of the three doses of HBV, or hepatitis B vaccine, is 98.24 percent, which is pretty impressive when compared with the 7.24 percent in the West Pacific Region as published by the WHO," CDC Director-General Chang Feng-yee (張峰義) said.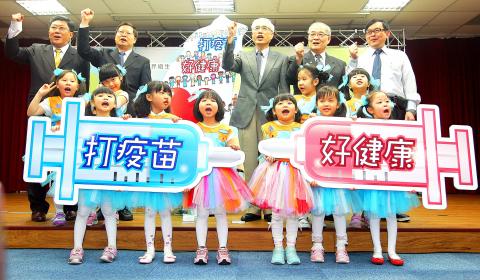 Children holding syringe-shaped placards join officials from the Department of Health's Centers for Disease Control at a vaccination promotion in Taipei yesterday, as part of World Immunization Week.
Photo: CNA
While WHO member countries recently launched a new plan to control and eliminate measles and rubella, infants born after 2011 in Taiwan have a completion rate for the three doses of 5-in-1 (providing protection against diphtheria, tetanus, pertussis, polio and Haemophilus influenzae type b) of 97.3 percent, and those born after 2010 have a 98.1 percent acceptance rate of the first dose of MMR (against measles, mumps and rubella), Chang said.
To reduce the incidence rate of invasive pneumococcal disease and the complications following the infection, Taiwan has also introduced the new pneumococcal conjugate vaccine, providing the vaccine to children between the ages of two and five from last month, the CDC said.
"Immunization can help boost the nation's economic performance, as vaccinated people would be immune to infections that might cost both the infected and society dearly," said Huang Li-min (黃立民), the committee convener of the CDC's Advisory Committee on Immunization Practices.
Lee Ping-ing (李秉穎), a vaccine expert at Taiwan Immunization Vision and Strategy, urged the government to strengthen immunization education and lay to rest public concerns over vaccines.
Lee also called on the government to subsidize not only the vaccines, but also the medical attention provided by doctors, without whom the vaccination could not be administered.
Comments will be moderated. Keep comments relevant to the article. Remarks containing abusive and obscene language, personal attacks of any kind or promotion will be removed and the user banned. Final decision will be at the discretion of the Taipei Times.