Taipei Story House opens greeting card exhibition
Taipei Story House (台北故事館), a museum dedicated to promoting Taiwanese lifestyle arts, is celebrating its 10th anniversary with an exhibition on greeting cards.
The museum, located next to the Taipei Museum of Fine Arts, has joined with Hallmark, an international greeting card brand, to present The Story of Greeting Cards exhibition, and the public is encouraged to take a closer look at the history and development of greeting cards.
The exhibition, which is due to run until Aug. 25, features more than 1,000 cards from more than 15 nations.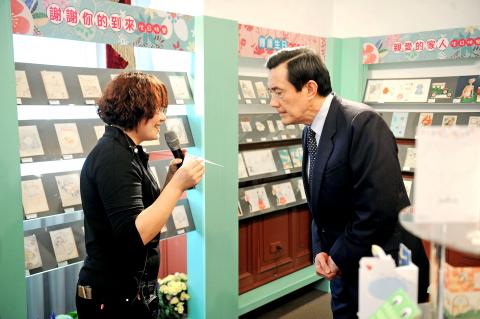 President Ma Ying-jeou, right, visits the greeting card exhibit at an event marking the 10th anniversary of Taipei Story House in Taipei yesterday.
Photo: CNA
Besides card designs and styles, the exhibition also focuses on different traditions and rituals, such as the use of greeting cards as part of India's Sibling's Festival or Russia's Men's Festival, the museum said.
Taipei Story House managing director K.C. Chen (陳國慈), a Hong Kong native who has sponsored the musem since 2003, said the museum had attracted more than 2.5 million visitors in the past 10 years, and expects more visitors will come to experience the variety of cultural activities and exhibitions on offer.
"I adopted an old house and sponsored the museum. It's my way of expressing my love for Taiwan, which adopted me and took care of me for 30 years," she said.
The museum is housed in a 100-year-old Tudor-style building that was in urgent need of repair before the Taipei City Government took it over in 2003.
The renovation of the building was part of the Taipei City Cultural Affairs Department's efforts to revive municipal heritage sites, including the Chien Mu Residence (錢穆故居), the Lin Yu-tang Residence (林語堂故居), the Taipei Film House (台北之家), the Wisteria Tea House (紫藤廬) and Treasure Hill Artist Village(寶藏巖).
Comments will be moderated. Keep comments relevant to the article. Remarks containing abusive and obscene language, personal attacks of any kind or promotion will be removed and the user banned. Final decision will be at the discretion of the Taipei Times.