Police face accusations of brutality
CLASH: Protesters and reporters complained of being manhandled by officers as they tried to prevent police from evicting residents of the Huaguang Community
Lawmakers, protesters and media personnel yesterday accused the police of brutality when they forcefully evicted residents and demolished houses in the Huaguang Community (華光) in Taipei last week, demanding better human rights training for officers.
"I was trying to get the officers' attention because two female student protesters fell on the floor and their glasses broken, after being pushed by two male officers. I also asked them to have female officers present when removing the two girls," Shen Hsin-hung (沈信宏), a student who took part in the protest on March 27, said during a press conference at the Legislative Yuan.
"Two officers responded by kicking me from two sides. I called for a fellow student to record it on tape, and when he started doing so on his cellphone, an officer quickly took his phone away," Shen said.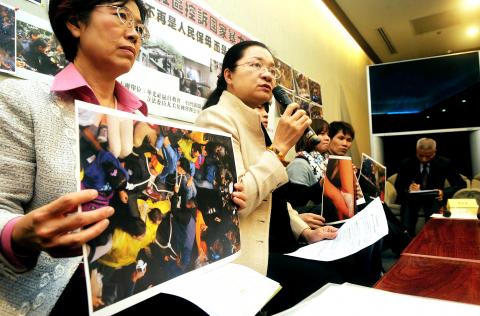 Democratic Progressive Party legislators Yu Mei-nu, left, Tien Chiu-chin, second left, and several residents of the Huaguang Community in Taipei yesterday accuse police of brutality in evicting residents from their homes.
Photo: Lin Cheng-kung, Taipei Times
"Then an officer took me by the collar while another held me by the neck. I was wounded and in pain, so I asked for medical help, but the officers ignored me. They took me out forcefully and dropped me hard on the ground, which hurt my chin," Shen said.
Despite wounds all over his body, Shen said he was only sent to a nearby hospital after about half an hour.
"I was among the last six people to be removed. The officers may have been furious, but they should not have taken it out on us. We were unarmed citizens," he added.
Many reporters also accused police officers of brutality and attempting to block them from doing their job.
"We condemn police brutality against reporters. This is not something that should happen in a democracy," Association of Taiwan Journalists (ATJ) chairwoman Chen Hsiao-yi (陳曉宜) said. "The National Police Agency and the Taipei City Police Department should apologize to the public."
She called on the police to negotiate with the media in advance to designate an area for reporters when it expects protests may turn violent.
Democratic Progressive Party legislators Yu Mei-nu (尤美女), Tien Chiu-chin (田秋堇) and Tuan Yi-kang (段宜康) echoed the accusations.
"Apparently, law enforcement personnel have no understanding of human rights," Yu said. "Human rights education should be emphasized in officer training."
Taipei City Da-an Police Precinct chief deputy Hu Shun-hsiang (胡順祥), who led last week's action, and National Police Agency (NPA) official Huang Ching-fu (黃清福) expressed their regret over the harm done to the protesters and apologized to the media over the incident.
Huang also promised to talk with the media about establishing a media zone in similar situations in the future.
Chen urged the police to keep their word, "because that's what the NPA promised the ATJ seven or eight years ago when there were also clashes between police and reporters, but nothing happened afterward."
Comments will be moderated. Keep comments relevant to the article. Remarks containing abusive and obscene language, personal attacks of any kind or promotion will be removed and the user banned. Final decision will be at the discretion of the Taipei Times.