Parents, children speak out against nuclear plant
Ahead of Children's Day tomorrow, more than a dozen parents and their children gathered in front of the legislature in Taipei yesterday morning, saying that children have the right to express their opposition to nuclear power.
Holding anti-nuclear flags and anti-nuclear drawings, they shouted: "I am a child, I am against nuclear power. I have a child, I am against nuclear power."
Initiated by several civic groups, the parents and children presented a children's declaration for abolishing nuclear power, stressing that although children do not have the right to vote in the referendum, their voices should not be ignored.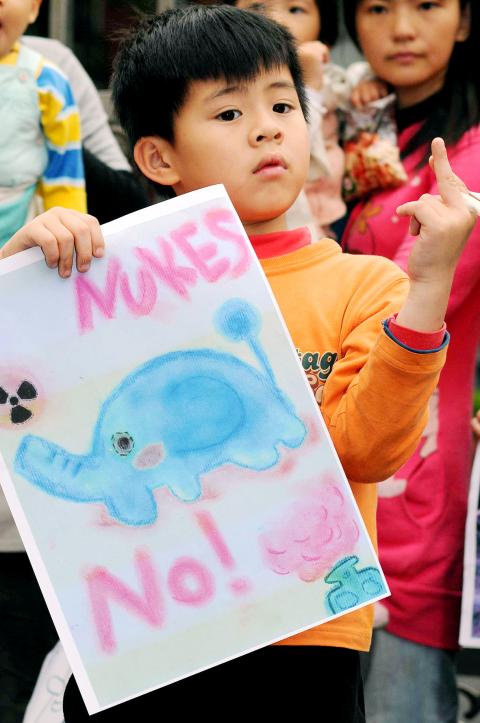 A boy holds a hand-drawn anti-nuclear poster while attending a protest organized by Citizens of the Earth and the Humanistic Education Foundation in front of the Legislative Yuan in Taipei yesterday.
Photo: CNA
"When adults deal with issues related to us, please listen to our opinions and thoughts first. When making decisions about us, please consider what is best for us," said Chan Ming-hua (詹名樺), a girl in seventh grade representing the children, reading the declaration aloud.
"Please listen to us and make the best decision. Now is the time to change, for stopping the construction of the Fourth Nuclear Power Plant and thinking hard about how to deal with nuclear waste in a fair and justified manner," she said. "That is the best Children's Day gift for us."
Three Democratic Progressive Party legislators and one Taiwan Solidarity Union legislator met the demonstrators and signed their declaration to show support.
"The nuclear power plants affects our lives, because I'm afraid to buy a house in Greater Taipei, fearing that the property would be worthless if a nuclear disaster happened," a mother with her daughter in her arms said. "I hope the nuclear power plant construction project can be stopped and the operating ones retired."
"I hope we can leave clean energy for our children, instead of dangerous nuclear waste," another mother said, holding her son in her arms.
Humanistic Education Foundation executive director Joanna Feng (馮喬蘭) said children in Taiwan not only have to cope with the stress of academic performance, but also worry about nuclear safety.
"I took a day's leave of absence to come protest against nuclear power, because no matter how good your school performance is, if a nuclear power plant explodes, even professors can't escape being killed," Chan said.
The groups will also initiate a movement that involves sending postcards with the declaration written on it to the Presidential Office, and inviting children or teenagers who do not have voting rights to express their opposition to the president.
Comments will be moderated. Keep comments relevant to the article. Remarks containing abusive and obscene language, personal attacks of any kind or promotion will be removed and the user banned. Final decision will be at the discretion of the Taipei Times.