Reduce speed limit to promote 'cycling island': expert
Taiwan needs to lower its speed limits and allocate more space for cyclists if it hopes to achieve its aim of becoming a "cycling island," a visiting expert said.
"The first thing I would tackle is speed," European Cyclists' Federation director Kevin Mayne said on Wednesday at the Taipei International Cycle Show.
Mayne, whose federation consists of European national cycling organizations, said speed limits in Taiwan are too high for cars and scooters to coexist with cyclists.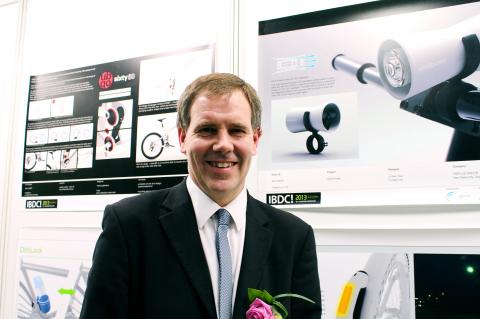 European Cyclists' Federation development director Kevin Mayne yesterday attends the Taipei International Cycle Show, at the Tapei World Trade Center's Nangang Exhibition Hall, which ends tomorrow. Mayne said that if Taiwan wants to promote cycling on its roads, it will have to reduce speed limits and provide more cycle lanes.
Photo: CNA
Bicycle-friendly cities usually have speed limits of below 30 kilometers per hour, he said, citing German and Dutch cities as examples.
He said lowering speed limits is also a cheap solution to changing Taiwan into a cycling paradise, as nothing needs to be built.
"What you need is political will and enforcement," he added.
Mayne said cities in Taiwan should allocate more space for cyclists and take bolder steps to improve the environment, citing New York, Paris, London and Vienna as examples of cities that are doing so and upon which Taiwan could model itself.
He said the bike-sharing system in Paris, for example, offered 15,000 bikes when it was first launched, while Taipei's bike-sharing system, Youbike, currently offers only 1,500.
"Too many cities have started [bicycle schemes] too small," he said.
Taiwan's strong bicycle industry could be used to the nation's advantage in developing it into a cycling paradise, Mayne added.
The Taiwanese people's underlying interest in cycling — evident in the fact that many people still ride bikes on the roads despite the traffic conditions — is also an advantage, he added.
He said there are economic benefits to turning Taiwan into a "cycling island," including savings in public health, transportation costs and road repair, lower carbon emissions, better air quality, less traffic congestion and a more vibrant and healthier society.
According to King Liu (劉金標), chairman of Taiwan's bicycle titan Giant, the government invested NT$3 billion (US$100.85 million) to build 2,088km of bike lanes around the nation from 1999 to 2011.
The government plans to invest a further NT$1.2 billion to build more bike lanes in the next four years, he added.
Comments will be moderated. Keep comments relevant to the article. Remarks containing abusive and obscene language, personal attacks of any kind or promotion will be removed and the user banned. Final decision will be at the discretion of the Taipei Times.