Squirrel recovering after 20cm arrow pulled out
SAVING THE 'KID': Photographs of a squirrel with an arrow piercing its hind leg prompted public calls for authorities to find and treat it, as well as the perpetrator
Police are searching for a person who had shot and wounded a squirrel with a crossbow on the campus of National Tsing Hua University.
Reports of the sighting of the injured squirrel aroused public concern about its well-being and elicited calls for the authorities to track down the offender.
The university organized a team to search for the squirrel, with several animal rights activists in Taipei traveling to Hsinchu to help out.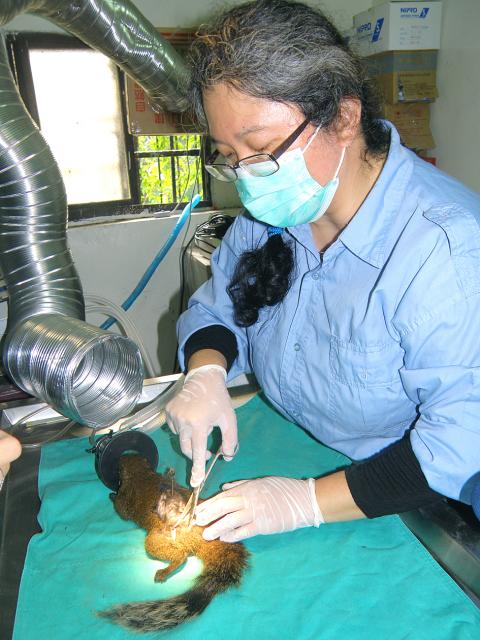 A veterinarian at Hsinchu Zoo removes an arrow from a squirrel on Tuesday.
Photo: Tsai Chang-sheng, Taipei Times
Netizens circulated pictures of the injured animal, dubbed the "squirrel kid (松鼠小子)," showing an arrow running through its back leg.
While sympathizing with the squirrel's plight, netizens said they were also moved by its display of vitality and liveliness. Despite being injured, the squirrel was pictured running around, foraging for food and even competing with pigeons for food.
University officials and representatives from the Hsinchu City Government's Ecology and Conservation Bureau spent about a week trying to capture the squirrel to take it in for treatment. As a final measure, they set up six large wire cages around the campus' Chenggong Lake (成功湖), placing food inside as bait. The squirrel was caught in one of the cages on Tuesday morning.
Officials immediately took it to the Hsinchu Zoo for treatment.
After anesthetizing the bushy-tailed rodent, the veterinarian cleaned the affected area, and was able to remove the 20cm arrow.
"The squirrel was lucky, because the arrow did not penetrate any vital organs. If it had, it would not be alive today," the doctor said.
Hsu Hung-yi (許弘宜), chief officer of the Hsinchu Zoo, said the operation took about an hour.
"After the anesthesia wore off, the squirrel was back to its usual energetic form. However, we have to keep it under observation for two weeks after the surgery," Hsu said.
The squirrel will then be handed over to the Ecology and Conservation Bureau and released on campus.
A university security guard said most of the squirrels on campus are not afraid of humans, because they are used to people feeding them.
The guard said that because the animals are approachable, the perpetrator probably tried to entice the squirrel with food and then shot it at close range.
Police said the metallic arrow looked liked it was shot using some kind of crossbow.
Comments will be moderated. Keep comments relevant to the article. Remarks containing abusive and obscene language, personal attacks of any kind or promotion will be removed and the user banned. Final decision will be at the discretion of the Taipei Times.