FEATURE: Poultry farmer wins with unique 'vegetarian' birds
An award-winning poultry farmer in Miaoli County has carved out a niche for himself in the organic produce market, by raising his brand of "vegetarian-feed chickens" without using animal protein additives or growth hormones.
Wei Chu-ting (魏趨鼎) insists on giving consumers peace of mind when they purchase his poultry.
"The chickens that I raise may not be the tastiest, but I want them to be the healthiest. We should reduce concerns [about meat safety] and minimize health risk factors for customers," Wei said.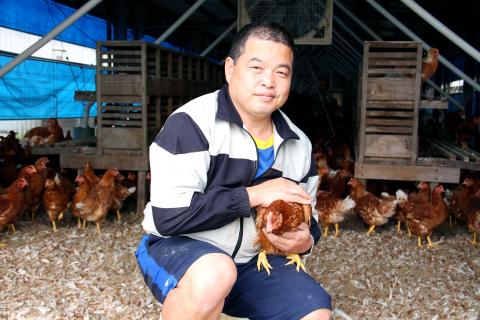 Award-winning farmer Wei Chu-ting holds a chicken on his poultry farm in Houlung Township, Miaoli County, on March 1. Wei does not feed his chickens any animal products or give them growth hormones or antibiotics.
Photo: CNA
A winner of Taiwan's annual Ten Outstanding Farmers Award this year, Wei tears up when talking about his father, who died of cancer a number of years ago, but who had inspired him to set out on the road to raise "healthy, non-toxic" chickens.
During his childhood in Miaoli County, Wei's father raised chickens at home to supplement the family's income. As a child, Wei had to help feed the birds, clean up their droppings and handle the poultry when they were inoculated. He became experienced in the travails and laborious work of looking after chickens day and night.
"It got to the point that I dreaded seeing the chickens," he said.
As he reached adulthood, Wei headed to Taipei to start a career as an auto mechanic, and later progressed to work in sales. Wei considered himself quite successful after achieving an annual salary of more than NT$1 million (US$33,670).
"Although working in sales provided a good income, there was a lot of psychological pressures involved," he said.
In 1995, Wei decided to return to his parents, who were living by themselves. He gave up his high-paying job and returned to Houlung Township (後龍) in Miaoli County to take over the family poultry business from his father.
Happy that his son wanted to carry on the business, his father took out a bank loan, using the family estate as collateral, to build new feedlots for more chickens.
However, the year the feedlots were completed and they started to raise more chickens, the market collapsed. The poultry price dropped to NT$14 per Taiwanese jin (台斤, 600g). Wei had to drive his truck around town to sell 10 chickens for NT$1,000, and still some people said his price was too high.
Chang said that with a lot of hard work he was able to sell most of their chickens that year.
Then a foot-and-mouth epidemic decimated the pork industry, causing the price of poultry to shoot up to NT$54 per jin. The prices of poultry and other meat seesawed for some time afterwards, but Wei said he missed out several times when prices were good. He became frustrated and discouraged.
Wei said he was just a small-scale poultry farmer and it was impossible to compete against the low prices charged by large corporations. However, one day a customer asked him: "How do the chickens you are selling differ from chickens sold by others?"
That question made him think long and hard, and he came to the realization that he had to offer something different.
"I had to make my chickens different and offer something special, so I could create a niche market," Wei said.
His father was then diagnosed with cancer, so Wei vowed to "raise the healthiest chickens, which are the safest for people to eat."
Wei attended food safety certification classes offered by the Council of Agriculture as well as seminars to learn about the latest developments in poultry farming, and to obtain new knowledge about the industry.
He went through a period of trial and error, experimenting with different methods, but was at last successful in 2002 when he implemented his own formula of all-vegetarian chicken feed, with corn and soybeans as the main ingredients.
Wei stressed that his poultry are "vegetarian-feed chickens," as they are raised "without animal feed proteins, no animal fat additives and no growth hormones."
He said that most of the poultry industry uses feeds that contain bone meal from animals and ground fish meal.
The bone meal, he said, is usually obtained from discarded hogs, cattle and sheep, and so "it is difficult to guarantee the safety of [meat from] the chickens feeding on this stuff."
Wei said as far as using bone meal in feed is concerned, he is most afraid of the infectious agent that causes bovine spongiform encephalopathy, commonly known as mad cow disease, because even a cooking temperature of 120oC cannot eliminate it.
In fish meal, Wei is afraid of dioxin residues and other toxic chemicals that cannot be metabolized by animals and remain in their bodies, so if they end up in chicken feed, they enter the birds' bodies and are transported to the people who eat those chickens.
Wei now operates a ranch in Houlung where he raises about 30,000 chickens. He is proud that all his poultry are "vegetarians from birth" and he feels happy to sell all the ranch's produce — from eggs to "silkies" (black-boned chickens, 烏骨雞) and black-feathered chickens.
Since he does not use any antibiotics or medication, Wei's chickens require more care than those from other poultry farms.
To gain a foothold in the burgeoning organic market, Wei started his own brand, Healthy Free-Range Chickens.
His brand of poultry products has obtained three main certifications — TAP, or Taiwan/Traceability Agricultural Product 農產品產銷履歷), Taiwan Native Chicken (台灣土雞) and HACCP (Hazard Analysis and Critical Control Points), which is the primary food safety standard. With these three certifications, Wei's chickens are becoming increasingly popular and are enthusiastically received in the organic market.
Wei said that the nutritional values of different types of chicken do not vary much, with the exception of silkies, which are highly favored by Taiwanese consumers.
"Meat from black-boned chickens contains twice the amount of iron found in other types. Their meat also contains a variety of trace elements and the meat is slightly alkaline," he said.
As such, silkies are very suitable for women in postpartum care — the traditional month-long rest and recovery period for mothers following childbirth, that is customary in many Asian cultures, he said.
Wei's advice to consumers is that before purchasing chickens, they should first take a good look at the bird — a rooster's cockscomb should be red, while the skin should be yellowish and shiny.
If the skin is grayish-white or dark red in color, it may be a diseased chicken whose blood coagulated below the skin and could not be discharged when it was slaughtered, Wei said.
He also advised buyers to touch and feel the chicken's skin — if it is sticky or oozes mucus, then most likely it is not fresh.
Wei recommended that consumers go to traditional wet markets to buy birds "as early in the day as possible," because bacteria proliferate in warm temperatures and poultry meat left unrefrigerated in the heat of day may cause illness.
Comments will be moderated. Keep comments relevant to the article. Remarks containing abusive and obscene language, personal attacks of any kind or promotion will be removed and the user banned. Final decision will be at the discretion of the Taipei Times.