Farmers protest Gaoping lakes plan
Dozens of farmers yesterday protested in front of the Environmental Protection Administration (EPA) in Taipei against the Gaoping Great Lakes (高屏大湖) project as the case was being reviewed by the Environmental Impact Assessment (EIA) general assembly.
The Water Resources Agency's cross-border water channeling project which aims to address water shortages by building five artificial lakes in a nearly 700 hectare area on the border of Pingtung County's Ligang Township (里港) and Greater Kaohsiung's Meinong District (美濃), has been heavily criticized by local farmers and environmental groups.
An EIA ad hoc meeting in January suggested two options for the general assembly: Allow the development of one lake first, then redo the assessment, or reject all development plans.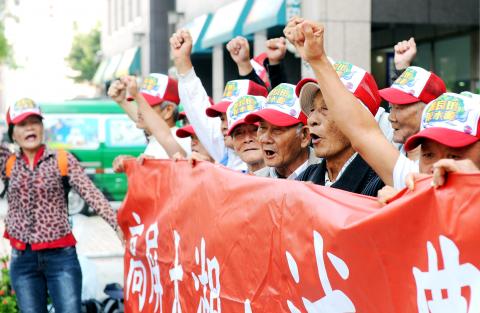 Residents from Greater Kaohsiung's Meinong Township stage a protest in front of the Cabinet's Environmental Protection Administration in Taipei yesterday, calling on the government to veto the Gaoping Great Lakes development project.
Photo: Lo Pei-der, Taipei Times
The protesters said spending more than NT$10 billion (US$337 million) on the project was a waste of money, as it would destroy good quality land used for growing high-yield green soybeans with a high export value, adding that water conservation could be achieved by simply improving the area's tap water leakage rate.
"The area forms a natural pond whenever there is a typhoon, but I am concerned about flooding if dikes are erected for artificial lakes," said a local resident surnamed Liang (梁), who lives near the site of the proposed develoment in Ligang.
Citizen of the Earth Taiwan executive director Lee Ken-cheng (李根政) said the Greater Kaohsiung and Pingtung County governments have proposed alternative solutions including water recycling from household and industrial wastewater, improvement of the Donggang Creek (東港溪) to increase water supply and improving tap water leakage rates, which could contribute to sustainable development.
Officials from the local governments said as the project's data is incomplete and the necessity and urgency of the project is still undecided, the developer should provide an improved project plan.
The final decision made at the meeting yesterday was to reject the Water Resources Agency's current proposal and to ask central and local governments to find alternative solutions for land use and water allocation, as well as conducting a comprehensive review of the necessity of the project.
Comments will be moderated. Keep comments relevant to the article. Remarks containing abusive and obscene language, personal attacks of any kind or promotion will be removed and the user banned. Final decision will be at the discretion of the Taipei Times.