Government committed to nuclear safety, Ma says
President Ma Ying-jeou (馬英九) yesterday said that the government would ensure nuclear safety before allowing the start of commercial operations of the controversial Fourth Nuclear Power Plant, adding that he expected the proposed nuclear referendum to resolve the longstanding dispute over the power plant.
"Issues surrounding the power plant concern everyone in Taiwan. It is because of the great disputes over the construction of the plant that we decided to solve the issue through a referendum," he said during a meeting with Chinese Nationalist Party (KMT) Taipei branch members.
Ma made the comments in the wake of a large-scale anti-nuclear power rally on Saturday in front of the Presidential Office which was held to protest the government's plan to complete the construction of the Fourth Nuclear Power Plant in New Taipei City's (新北市) Gongliao District (貢寮).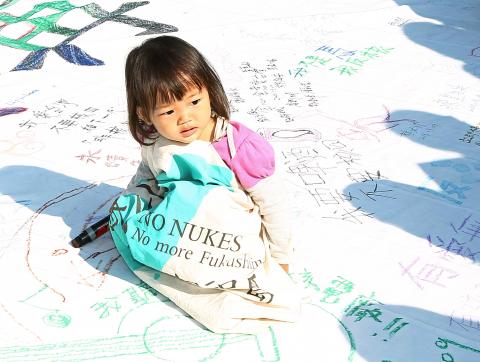 A girl sit on the ground draped in a banner with anti-nuclear slogans on it during a flag ceremony on Ketagalan Blvd yesterday morning.
Photo: Hu Shun-hsiang, Taipei Times
Ma said that whether the construction of the power plant should be ceased and whether the nation should depend on nuclear power are issues of national security, and a referendum is the way to reach consensus and make a final decision on the issue.
"The government must assure nuclear safety before allowing the power plant to operate. However, we also need to consider the economic consequences if the construction of the plant is to be halted," he said.
Ma, who is also KMT chairman, said that his party was a responsible ruling party that is willing to face and solve the problem.
He said the government would present data on the power plant and make related information open and transparent, so that the public can fully understand the issue before casting their votes during the referendum.
Citing Japan as an example, Ma said the Japanese government suspended operations at 50 nuclear power plants immediately after the Fukushima Dai-ichi nuclear power plant disaster, resulting in an electricity price increase last year.
The Japanese government announced last month that it aimed to reduce the use of nuclear power, rather than abandon it, to prevent an exodus of businesses due to high electricity costs, Ma said.
He added that the Fourth Nuclear Power Plant has better disaster-prevention measures than the Japanese power plant.
He said the government has heard the concerns of the anti-nuclear power groups.
However, in response to the protesters' call for the government to halt the construction of the power plant, the president said that the proposed referendum should be held to address the issue.
Comments will be moderated. Keep comments relevant to the article. Remarks containing abusive and obscene language, personal attacks of any kind or promotion will be removed and the user banned. Final decision will be at the discretion of the Taipei Times.