Lien Chan embarks on China visit
Former Chinese Nationalist Party (KMT) chairman Lien Chan (連戰) yesterday said he was going to China to promote engagement across the Taiwan Strait.
"The purpose of my trip is very simple — to boost bilateral exchanges by reviewing past developments and projecting future growth trends," Lien said prior to his departure for Beijing.
Lien, who is traveling at the head of a delegation of more than 30 political figures and business executives, said he had not visited Beijing in nearly two years.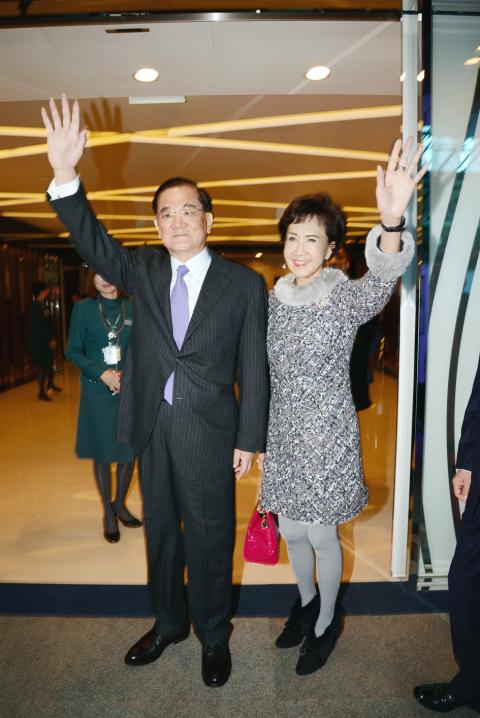 Former Chinese Nationalist Party (KMT) chairman Lien Chan and his wife wave before leaving for China yesterday.
Photo: CNA
"I want to take advantage of this trip to get an overview of the latest developments there and meet old friends and good pals of mine, as well as make new friends," he said.
"Today happens to be the Lantern Festival on the Chinese Lunar calendar. This is a really good time to make a nostalgic, yet forward-looking journey," he added.
Lien said that while cross-strait relations have made substantial progress in various aspects since the crucial years of 2005 and 2008, there was still ample room for improvement.
In 2005, Lien met Chinese President Hu Jintao (胡錦濤) for the first time in Beijing in his capacity as then-opposition KMT chairman. The meeting was widely credited as an ice-breaking event that helped thaw the long-stalled cross-strait relations.
Bilateral engagements made another breakthrough in 2008, when the the KMT returned to power and institutionalized cross-strait talks were resumed.
During his current visit to Beijing, Lien said he would exchange views with the Chinese side on how to expand and deepen bilateral engagements based on past achievements and current foundations.
Lien further said he was not visiting China for any partisan or personal interests.
"The trip is mainly for maintaining lasting peace, stability and prosperity across the Taiwan Strait," Lien added.
Chinese authorities reportedly took the initiative to invite Lien to visit Beijing.
He is scheduled to meet with China's president-in-waiting, Chinese Vice President Xi Jinping (習近平), today, making him the first influential Taiwanese figure to meet with Xi since he took over the helm of the Communist Communist Party (CCP) in November last year.
Xi, who has seldom addressed Taiwan-related topics in public since he assumed the post as CCP general secretary, is widely expected to outline his vision for cross-strait relations during his meeting with Lien.
Lien will hold a press conference in Beijing at 11am today after his meeting with Xi earlier in the day, according to reports from Beijing.
The members of Lien's delegation include KMT vice chairmen Lin Fong-cheng (林豐正) and John Chiang (蔣孝嚴), New Party Chairman Yok Mu-ming (郁慕明), Lien's son, Sean Lien (連勝文), and several business tycoons, such as Hon Hai Group chairman Terry Gou (郭台銘) and Ruentex Group chairman Samuel Yin (尹衍樑).
Comments will be moderated. Keep comments relevant to the article. Remarks containing abusive and obscene language, personal attacks of any kind or promotion will be removed and the user banned. Final decision will be at the discretion of the Taipei Times.