Ma should learn from Chiang: DPP
HISTORY LESSON: A DPP legislator said if Ma really saw Chiang Ching-kuo as his role model, he should 'have the guts' to suspend work on the Fourth Nuclear Power Plant
President Ma Ying-jeou (馬英九) should learn from his mentor, late president Chiang Ching-kuo (蔣經國), and make the voice of the people his top priority and suspend construction of the Fourth Nuclear Power Plant, a lawmaker and anti-nuclear activists said yesterday.
Despite being an authoritarian, Chiang, who ruled Taiwan from 1978 to 1988, ordered the suspension of plans to build the nuclear power plant in 1985 "because people still had concerns about nuclear power," Democratic Progressive Party (DPP) Legislator Tien Chiu-chin (田秋堇) told a press conference.
Citing a copy of the Chinese-language United Daily News published on May 3, 1985, as proof, Tien said if Ma really saw Chiang as his role model, he should "have the guts" to order the third construction suspension in the plant's 30-year history because "that is what Taiwanese want."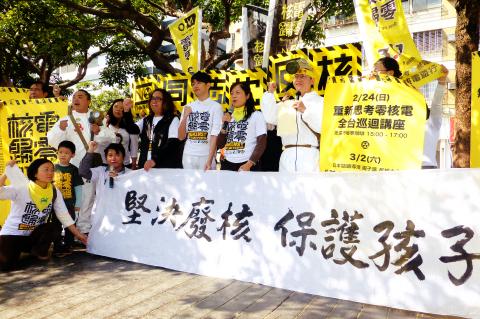 An anti-nuclear group protests in Greater Taichung yesterday against the construction of the Fourth Nuclear Power Plant.
Photo: Liao Yao-tung, Taipei Times
After construction eventually began in the late 1990s, the second suspension was ordered by former president Chen Shui-bian (陳水扁) in 2000.
The controversy over the plant, located in Gongliao (貢寮), New Taipei City (新北市), has been hotly discussed across the country as the opposition, anti-nuclear activists and several Chinese Nationalist Party (KMT) members have called for the construction to be suspended, blocking an additional budget allocation for the project and stopping the plant from becoming operational.
While Ma and the KMT have said their eventual goal is a nuclear-free homeland, Ma has insisted on completing the construction and leaving the question of whether the plant should become operational for future deliberation.
Supporters who back the nuclear power plant project, which has cost more than NT$300 billion (US$10.1 billion), said a suspension would result in a huge contract breach penalty, which would have to be paid by the government and Taiwan Power Co (Taipower) and which would push up the price of electricity.
Tien said that suspending the construction now would cost less than retiring the plant, as a Taipower report in 2000 showed that the total cost of a suspension would be between NT$67.4 billion and NT$88.7 billion.
"The construction was resumed after Chen Shui-bian's failed attempt and what we now know is that the project has cost an additional budget of more than NT$200 billion," she said.
The lawmaker rejected Ma's pledge to invite international experts to evaluate nuclear safety at the plant once the construction is completed.
Citing a document provided by Atomic Energy Council Minister Tsai Chuen-horng (蔡春鴻), Tien said that no international expert or organization would endorse nuclear safety for another country.
The decision Ma would have to make would be a political one rather than technological, said political analyst Yang Hsien-hung (楊憲宏), who witnessed Chiang's surprising policy change as a reporter.
"If Chiang was president today, I think he would have made the same decision," Yang said.
Nuclear activists also offered arguments to counter nuclear power supporters' claims of rising electricity prices once the nation's nuclear power plants are phased out.
Global nuclear power output has been staying at about the same level since the Chernobyl disaster in 1986 and statistics show that the number of retired nuclear reactors rose in two peaks — after the Chernobyl accident and after the Fukushima Dai-ichi nuclear power plant accident in Japan in 2011, Green Party Taiwan convener Pan Han-sheng (潘翰聲) said.
Green Consumers Foundation chairman Jay Fang (方儉) said Taipower had overestimated the cost of electricity production per megawatt-hour for natural gas and underestimated that for nuclear power, adding that electricity output in Taiwan has been twice that of demand.
"I would say that the electricity price would not increase as Taipower claims, even if operations at all four nuclear power plants are suspended," he said.
DPP Legislator Chen Ou-po (陳歐珀) told a separate press conference that he plans to propose an amendment to the Atomic Energy Act (原子能法) which stipulates that new nuclear reactors cannot be made operational before a regional referendum of residents in a 50km radius of the reactor eligible to vote has been held to vote on the issue.
Comments will be moderated. Keep comments relevant to the article. Remarks containing abusive and obscene language, personal attacks of any kind or promotion will be removed and the user banned. Final decision will be at the discretion of the Taipei Times.