Slow shuttle bus service mars visits to cherry blossoms
A popular cherry blossom sightseeing spot in Greater Taichung opened to the public yesterday, drawing many visitors, as well as complaints about transportation to the site.
Takeng Township's (大坑) Jhuoshuei Lane (濁水巷), a private 6-hectare hillside area with more than 5,000 cherry trees, became a tourist attraction after its owner allowed the public to visit for free for the first time during the Lunar New Year holiday last year. More than 200,000 people visited during the period.
The owner again opened the area for free public visits starting yesterday through Feb. 26, from 8am to 5pm.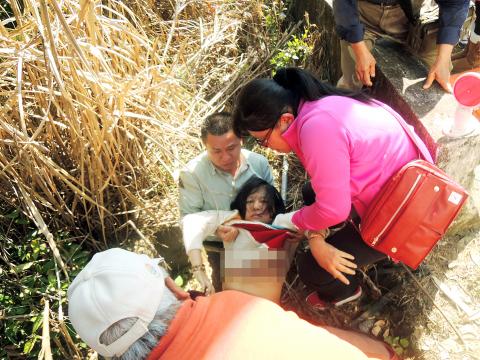 Fellow passengers yesterday help a woman who fainted while waiting in a long line for shuttle buses provided by the Greater Taichung Government to a sightseeing spot in Takeng Township.
Photo: Tsai Shu-yuan, Taipei Times
Due to the heavy traffic congestion caused by visitors to the site last year, the local government enforced traffic controls this year. Visitors are required to leave their cars or motorcycles at parking lots about 3km away from the entrance to the site and take the shuttle bus, which arrives every 10 to 20 minutes, to the area. Only bicycles are allowed near the entrance.
However, with a long line of visitors waiting for the shuttle service on the first day yesterday, many had to wait for more than two hours for a bus.
While walking is an option, some complained that walking 3km to reach the area was difficult for the elderly or small children. Others said that the shuttle bus did not take them straight to the entrance, so they had to change buses on the way.
Comments will be moderated. Keep comments relevant to the article. Remarks containing abusive and obscene language, personal attacks of any kind or promotion will be removed and the user banned. Final decision will be at the discretion of the Taipei Times.