Girlfriend of UK fugitive detained
DISCRIMINATION? Supporters of Zain Dean, convicted of a hit-and-run, have come under fire from the victim's supporters for saying Dean had not received a fair trial
Taipei prosecutors yesterday released on bail a girlfriend of British businessman Zain Dean, who fled Taiwan following his conviction in a fatal hit-and-run case, after detaining her on suspicion that she may have been involved in Dean's escape, as foreign supporters of the fugitive came under fire.
Tung Yu-chi (董玉琪) was released on NT$50,000 bail yesterday afternoon and barred from leaving the country.
Dean was sentenced to four years in prison in July last year on charges of killing a newspaper delivery man in a drunk driving accident in March 2010.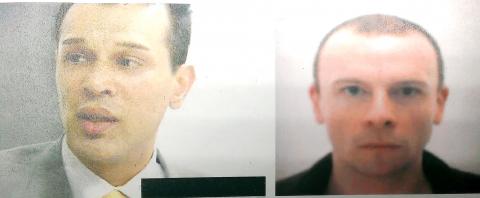 A photograph of British businessman Zain Dean, left, who fled Taiwan after he was convicted in a fatal hit-and-run case, is shown yesterday alongside a photograph of the man whose passport Dean used to flee Taiwan.
Photo: Yao Chieh-hsiu, Taipei Times
The court said that after drinking with friends in the early hours of March 25, 2010, Dean decided to drive home in his black Mercedes-Benz. On the way, he allegedly hit a scooter from behind, striking its rider, Huang Chun-te (黃俊德), so hard that Huang's neck was broken, leaving him paralyzed for several minutes before he died.
Dean, who denied he was at the wheel and maintained he was being driven by an employee of the KTV lounge where he had been entertaining customers, then allegedly fled the scene.
Members of Huang's family and netizens have been criticizing Linda Gail Arrigo, a US human rights advocate and long-term resident of Taiwan, for making remarks in defense of Dean last week.
Arrigo, who last week represented Dean in issuing a statement critical of Taiwan's judicial system, said the case showed discrimination among some Taiwanese, particularly toward people with darker skin.
In a statement last week, Dean, who is of Indian descent, set four conditions for his return to Taiwan, which he said would ensure a fair trial. Prosecutors have rejected the demands and said they would seek his extradition if Dean is in a country that has an extradition treaty with Taiwan.
Arrigo said there was no need for Dean to return to Taiwan to face justice, prompting a sharp rebuke from Huang's family and supporters, who said she should leave Taiwan.
In response, Arrigo said she had the right to freedom of speech and that she had an Alien Permanent Resident Certificate.
Meanwhile, Jerome Keating, a Taipei-based writer who supported Dean at a press conference in June 2010 chaired by Dean's lawyer in his first trial, Billy Chen (陳達成), told the Taipei Times yesterday that the case was suspicious and should be looked deeply into.
During that press conference, Keating — who himself had a brush with the judicial system and Taiwan's media over allegations of sexual harassment in 2009 — said the expatriate community in Taiwan and abroad thought Dean's case had been manipulated and turned into a social event, which was unfair to Dean's trial and reputation.
"We know there was a death, we know it was caused by Dean's car, we know the man's family is deprived of income and should have recompense," but the case is in question, he said yesterday.
"Video evidence of the accident, which was used to convict Dean was not presented in the trials, and there were two parking lot attendants of the nightclub, but investigators decided one did not drive Dean's car home, and avoided looking into the other," he said.
In a separate e-mail to a mailing group on Sunday, Keating offered "brief knowledge" of the case and wrote: "There are regular deaths by scooters; and then there is Zain's case [,] which of course involves a foreigner."
Investigations found that Dean fled Taiwan on Aug. 14 last year using a friend's passport. The friend, a Caucasian identified only as David, is an English teacher in Taiwan and is also a British citizen.
In a statement last week, Chen, who once received a one-year suspension for practicing law without a license, said Dean was innocent and had no choice but to abscond.
Chen's law firm was scheduled to hold a press conference today, but announced yesterday afternoon that it was canceled.
Comments will be moderated. Keep comments relevant to the article. Remarks containing abusive and obscene language, personal attacks of any kind or promotion will be removed and the user banned. Final decision will be at the discretion of the Taipei Times.