Cancer survivor leads ride for health
Anyone who is told that they have stage three colorectal cancer would naturally be devastated. For Wu Hsing-chuan (吳興傳), a guard at the zoo and a jogging coach who firmly believes that exercise is the panacea to all diseases, the news completely changed his life.
When he was told four years ago that he had contracted cancer because of genetics, Wu was afraid to let any of his friends know, wishing to preserve his dignity and reputation as a sportsman.
Aside from being a well-known jogger, Wu had also helped train Chang Wen-yen (張文彥), the first Taiwanese marathon runner to win the gold medal in the Asian Para Games. Wu added that he had led a group of blind men on a mountain climbing trip.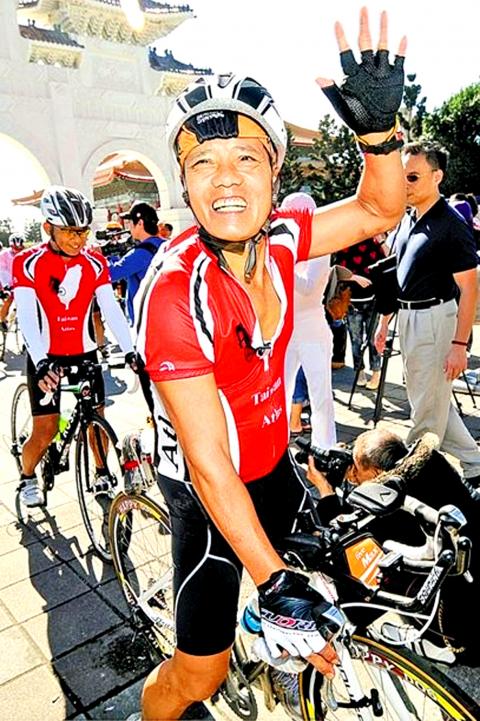 Jogging coach Wu Hsing-chuan waves at a cycling meet outside the Chiang Kai-shek Memorial Hall's Liberty Square in Taipei on Thursday last week.
Photo courtesy of Wu Hsing-chuan
When the doctor told Wu the news, his wife was in the last stages of chemotherapy, and his children — one in seventh grade and another in eighth grade — badly needed his care.
Depressed, Wu often closed himself off in his room in the hospital, crying about his fate. He said he was so downcast he even thought of taking his children's lives so they would not have to suffer.
However, his wife became the pillar of strength he needed, although she was still undergoing painful chemotherapy. Although her weight dropped from 60kg to 30kg and she was unable to take care of her own affairs, she encouraged Wu to be positive and face life head-on.
She accompanied Wu to all his chemotherapy sessions — 12 times over nine months — before passing away a week after Wu finished his last session.
Speaking of his wife, Wu said: "The will can indeed overcome all obstacles."
He promised his deceased wife that he would do his best to find his old self and raise their children alone.
"If you have tomorrow, with what face shall you greet the sunrise; if you only have today, think how to say goodbye," were the words that came to Wu's mind, the lyrics from the song of If there is Tomorrow by Hsueh Yueh (薛岳), a singer who died of liver cancer.
Wu was determined to regain his strength, and although his physical condition was not what it used to be, he continued to slowly build up his stamina.
To encourage other cancer patients to live their lives fully, Wu, who was at the time the chair for the Republic of China Jogging Association, launched a poll asking cancer patients what they most wanted to do.
The response he got was most of them wanted to go on a round-the-island bicycle trip. That inspired Wu to launch the first around-the-island bicycle event for people with cancer in 2011. He also took on the responsibility of finding sponsors for the event by writing letters to President Ma Ying-jeou (馬英九), city governments and companies.
The event was a success, with 13 people, including Wu, participating. It was also turned into a documentary film called Riding Miracle 13 (騎跡13).
Wu said that at the time doctors and even the local health department opposed the bicycle event, thinking it might be too strenuous for the patients. However, Wu insisted that exercise was good for then because it would boost their immunity levels.
Wu said it was fortunate that each of the 13 participants returned unharmed. However, his elder brother, who had joined the trip as a volunteer, passed away because of an accident in Hualien County's Yuli Township (玉里).
"My brother's passing weighed heavily on me and I felt so sorry because I had asked him to come," Wu said.
However, his brother was also a sportsman and passing away doing what he liked to do was an honor, Wu added.
To facilitate applications for government support and corporate sponsorship, Wu founded the Taiwan Cancer Patients Exercise Association in June last year. He said this had made it easier to apply for aid, such as lead cars, ambulances and police assistance.
The second around-the-island bicycle event was held in November last year, starting from the National Sun Yat-sen Memorial Hall in Taipei. The number of participants rose from 13 to 23, with a hundred riders going along as company, Wu said.
Reflecting on his life, Wu said he was a professional sportsman focused on bringing honor to himself until he began participating in public welfare events, including leading the visually challenged on jogging or marathon events.
Wu said his wish was "to lead all cancer patients out of their little world of pain and illness."
"I think that's my role in life," he said.
"Having cancer really changed my life, and I want others to know that even cancer patients have infinite possibilities on how to live their lives in full," Wu said.
Comments will be moderated. Keep comments relevant to the article. Remarks containing abusive and obscene language, personal attacks of any kind or promotion will be removed and the user banned. Final decision will be at the discretion of the Taipei Times.