Eric Chu speech raises eyebrows
BREAKING RANK? Chu's speech pleased independence supporters, and he made remarks appearing to support a national affairs conference, but he said there was no rift with Ma
Amid President Ma Ying-jeou's (馬英九) low approval ratings and speculation over who will be his "designated successor" within the Chinese Nationalist Party (KMT), New Taipei City Mayor Eric Chu (朱立倫) of the KMT has raised eyebrows among top brass in his party with his recent acceptance of an invitation to speak from a Taiwan independence group.
Chu on Nov. 28 was invited to speak at a forum organized by the Taiwan Brain Trust, a think tank founded by Taiwanese independence advocate Koo Kwang-ming (辜寬敏), on the topic of "city governance and national development."
While Chu's speech did not contain any surprises, pro-Taiwanese independence heavyweights said Chu was able to highlight key issues in governance and commended his ability and good reputation, adding that Chu "should come forward in 2016 [to vie for the KMT presidential candidacy]."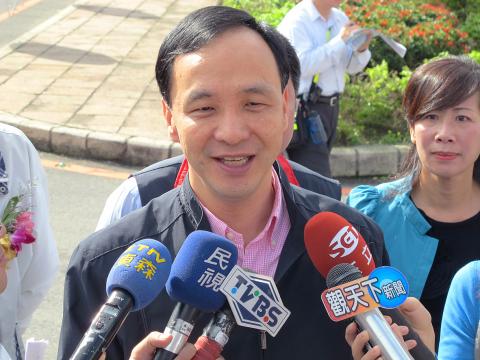 New Taipei City Mayor Eric Chu yesterday tells the press that his relationship with President Ma Ying-jeou remains very close following media reports about a possible rift between the two.
Photo: Yu Chao-fu, Taipei Times
Top-ranking officials from the Presidential Office and the Executive Yuan have taken notice of the praise garnered by Chu from the pan-green camp and found it "hard to look at," one party insider said.
According to the party source, a subtle yet intriguing change is taking place in the interaction between Ma and Chu, who is regarded as one of the KMT's hopefuls for the 2016 presidential election.
In his speech at the Taiwan Brain Trust, Chu avoided saying whether a national affairs conference should be held.
However, he said that "the important thing is that when our nation is facing serious issues, the government and opposition parties should work together to find solutions."
Because Ma has rejected opposition parties' proposal to convene a national affairs conference, the remarks by Chu, while being ambiguous, have been interpreted by political observers as signaling a different stance from Ma.
In another incident, last week at a New Taipei City council meeting, Chu accused the judiciary and prosecutors' offices of abusing their power while investigating top civil servants and indicting them on charges of graft.
The remarks earned Chu a rebuke by Ma, who doubles as the KMT chairman, at the KMT Central Standing Committee on Wednesday.
Commenting on the incidents, some pan-blue camp stalwarts said outsiders tended to blow any perceived change in the relationship between Ma and Chu out of proportion.
In response to media queries, Chu yesterday said he and Ma have always remained in contact.
"There is no rift between us," he said.
Comments will be moderated. Keep comments relevant to the article. Remarks containing abusive and obscene language, personal attacks of any kind or promotion will be removed and the user banned. Final decision will be at the discretion of the Taipei Times.