DPP slams Ma for approving more imports
The Democratic Progressive Party (DPP) caucus yesterday criticized the government for approving more Chinese agricultural products to be imported, "under the pretext that this is in Taiwan's best interest," saying that if this policy is followed through, it would be the "death knell for Taiwanese farmers" and will become a "hallmark of shame" for President Ma Ying-jeou (馬英九).
DPP caucus whip Pan Men-an (潘孟安) said the party would organize street rallies with farmers to protest the policy of allowing more imports from China.
"In the past four years, the Ma administration has permitted agricultural products from China to enter our market through intermediary trading and through special import licensing permits. These imports have also included processed agricultural goods. All this shows Ma has been lying to the public," Pan said.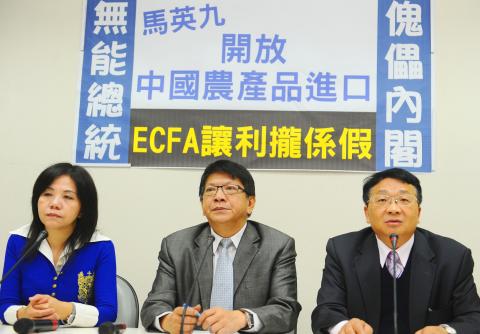 Democratic Progressive Party (DPP) Legislator Chen Ou-po, far right, accompanied by DPP Legislator Yeh Yi-jin, left, and DPP caucus whip Pan Men-an, speaks during a press conference at the Legislative Yuan in Taipei yesterday.
Photo: Chang Chia-ming, Taipei Times
Pan said Chinese Minister of Commerce Chen Deming (陳德銘) on Nov. 9 asked the government to open up the Taiwanese market to more Chinese agricultural products, with some categories competing against Taiwan's domestically produced agricultural goods.
"Ma said in an interview on Tuesday that some farmers were asking the government to open up the market to Chinese agricultural goods that are cheaper than those from other countries. Ma even chided the Council of Agriculture for taking time to deliberate on the matter," he said.
"Ma is the president of this country. He is not the head of a special administrative area appointed by China. But he is complying with the requests from the Chinese minister of commerce. This is a big joke for all the world to see," Pan said.
He added that Ma last year praised one of the derived benefits of the Economic Cooperation Framework Agreement (ECFA), when Taiwanese grouper fish were sold in China.
"However, the price of grouper has declined sharply, and now we need to import grouper fry from China to restock the Taiwanese market," Pan said,
"Taiwan's agricultural technology was transplanted to China and is now destroyed. It is a big tragedy. Our party will protest vigorously against the Ma administration for ruining the nation's agricultural sector, which has been fundamental to our country's economy. Now it has become the way of the high-tech sector, that, after moving most of their manufacturing to China, companies are returning to Taiwan, dumping cheaply produced goods into our market," he said.
DPP Legislator Yeh Yi-jin (葉宜津) said Beijing had found that fighting Taiwan militarily was too costly and has decided it would be cheaper to "buy up" Taiwan instead.
"China has its propaganda machine running, signing contracts to purchase agricultural products from Taiwanese farmers. If they suddenly stop purchasing, and farmers end up with a surplus, who will be responsible?" she asked.
Yeh said the Ma government was permitting China to conduct its propaganda campaign against Taiwanese, which is akin to the proverbial frog being cooked.
"Who gets all the real benefits under ECFA? When China has met its political goals, it will not just affect Taiwan's agricultural sector, it will also impact on how our government is managed, which would include the subsidies given to farmers under the Agricultural Development Fund," Yeh said.
DPP Legislator Chen Ou-po (陳歐珀) said that opening the market to Chinese agricultural products would be "the last straw" that breaks the backs of Taiwanese farmers.
"In his second-term inauguration address, Ma Ying-jeou reiterated that there was no plan to open up the Taiwan market, so he must stick to this promise. If he does not, farmers will take to the streets to protest," Chen said.
"The benefits of ECFA are nothing but deceit," DPP Legislator Ho Hsin-chun (何欣純) said.
She said Ma announced the plan to reduce trade tariffs would benefit Taiwan by US$9 billion each year.
However from January to October this year, the reduction in tariffs for Taiwanese goods exported to China amounted to just US$445 million, and the total from last year to October this year amounted to just US$572 million, less than one-tenth of what Ma had promised.
DPP caucus secretary-general Tsai Chi-chang (蔡其昌) said that, before the presidential election, Ma vowed not to allow more imports of Chinese agricultural products, but now used the pretext of "Taiwan's best interest" to "open up our market to virtually anything."
Comments will be moderated. Keep comments relevant to the article. Remarks containing abusive and obscene language, personal attacks of any kind or promotion will be removed and the user banned. Final decision will be at the discretion of the Taipei Times.