King, two deputy ministers take oaths of office
COMING TO AMERICA: The new envoy to the US will leave on Sunday to meet with overseas Taiwanese communities, the foreign ministry says
Representative to the US King Pu-tsung (金溥聰) was sworn in at the Presidential Office yesterday and is expected to depart for the US on Saturday.
President Ma Ying-jeou (馬英九), who presided over the oath-taking, did not exchange words with King, a long-term aide and a key figure in his re-election campaign last year.
The president appointed King, 56, to the position in late September, arousing concerns about King's lack of foreign affairs experience. King succeeds Jason Yuan (袁健生), who returned to Taipei in August to lead the National Security Council.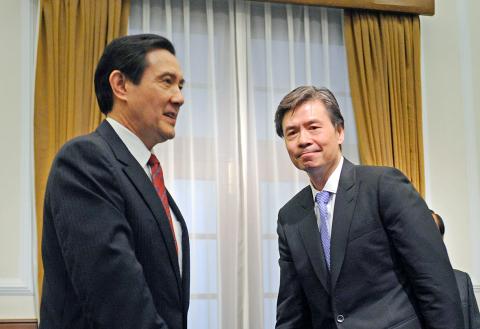 President Ma Ying-jeou, left, speaks at the swearing-in ceremony for Representative to the US King Pu-tsung, right, and other officials at the Presidential Office yesterday.
Photo: CNA
Mainland Affairs Council Deputy Minister Lin Chu-chia (林祖嘉) and Council of Labor Affairs Deputy Minister Hau Feng-ming (郝鳳鳴) also took the oath of office at yesterday's ceremony and shook hands with Ma.
King is expected to meet with leaders of overseas Taiwanese communities in Washington on Sunday.
King will return to Taipei on Dec. 26 to give a briefing at the legislature, the Ministry of Foreign Affairs said.
King made a 13-day trip to the US last year as Ma's top campaign adviser to boost the president's overseas support and facilitate communication with the US administration.
King majored in journalism at National Chengchi University and earned a doctorate from the School of Journalism at the University of Texas at Austin. He served as Taipei's deputy mayor from 2004 to 2006, when Ma was mayor.
A year after Ma was first elected president in 2008, King was appointed KMT secretary-general by Ma, who also serves as party chairman.
Additional reporting by CNA
Comments will be moderated. Keep comments relevant to the article. Remarks containing abusive and obscene language, personal attacks of any kind or promotion will be removed and the user banned. Final decision will be at the discretion of the Taipei Times.