Su looking to fill DPP's China body
Democratic Progressive Party (DPP) Chairman Su Tseng-chang (蘇貞昌) yesterday continued his search for members to fill up the party's China Affairs Committee after former premiers Frank Hsieh (謝長廷) and Yu Shyi-kun declined to join the new body.
With Hsieh and Yu — both prominent members of the opposition — refusing, the only seasoned politician on board is former party chairperson Tsai Ing-wen (蔡英文).
Speaking to reporters before the party's weekly Central Standing Committee (CSC) meeting, Yu said his opposition to the establishment of such a committee remained unchanged, which was why he refused the invitation.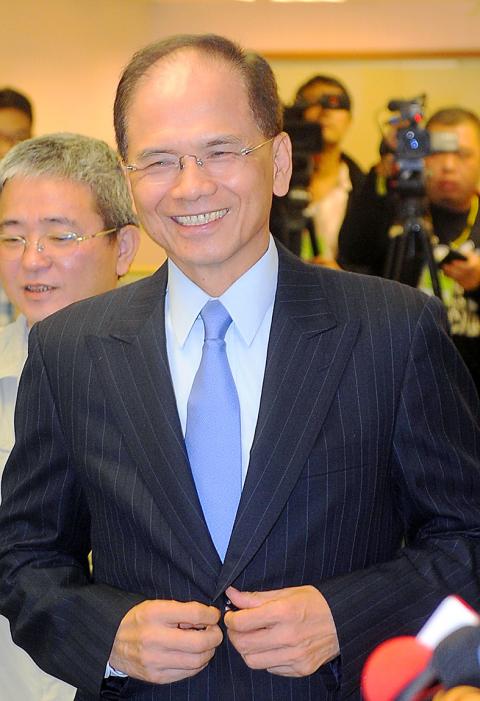 Former premier Yu Shyi-kun reiterates at the Democratic Progressive Party's Central Standing Committee meeting in Taipei yesterday that he would not join the party's China Affairs Committee.
Photo: Wang Min-wei
Yu added that he would like to pay more attention to domestic economic issues and suggested that Su include more young party members in the committee.
Hsieh, meanwhile, said the committee should look for political veterans that are not CSC members: Aside from Tsai, Su could consider former vice president Annette Lu (呂秀蓮), former DPP chairman Hsu Hsin-liang (許信良) and former Examination Yuan president Yao Chia-wen (姚嘉文).
Hsieh said he made the proposal because "the decisions of the China Affairs Committee would have to be reviewed and approved by the CSC."
Su's decision to double as convener of the China Affairs Committee and to make it an advisory board, rather than a decision-making body, that would not be tasked with handling the party's engagement with Beijing has drawn criticism from within and outside the party.
Critics said Su had missed an opportunity to foster closer engagement with China.
However, Su denied that his effort to fill up the roster of the committee, which he said would have seven to nine members, has suffered a "setback."
Su went on to lambast China for "infringing on Taiwan's sovereignty and sparking regional tensions" by the inclusion of Taiwan, the Diaoyutai Islands and the South China Sea in its newly revised passports.
The practice was inconsistent with Beijing's pledge to promote "peaceful development" and "friendships with neighboring countries" that the Chinese Communist Party stated in its recently concluded party congress, Su told reporters.
"The DPP strongly condemns President Ma Ying-jeou's (馬英九) silence on the issue and China's move that unilaterally changed the 'status quo,'" he said.
The DPP said Ma should call an international press conference and tell the world that Taiwan and China are ruled by separate governments, he said.
Comments will be moderated. Keep comments relevant to the article. Remarks containing abusive and obscene language, personal attacks of any kind or promotion will be removed and the user banned. Final decision will be at the discretion of the Taipei Times.