DPP caucus slams alleged plans for a sovereign fund
The Democratic Progressive Party (DPP) caucus yesterday demanded that the Ministry of Finance abandon an alleged plan to establish a sovereign fund by combining four government funds, saying that such a fund is unnecessary and risky because of a lack of transparency.
The caucus also reiterated its opposition to a reported plan to invest those government funds in China's stock market.
"Judging from the poor management of various government funds, including the Labor Insurance Fund, we oppose the sovereign-fund plan because the Ma Ying-jeou (馬英九) administration would be unable to manage it well," DPP Legislator Pan Men-an (潘孟安) told a press conference.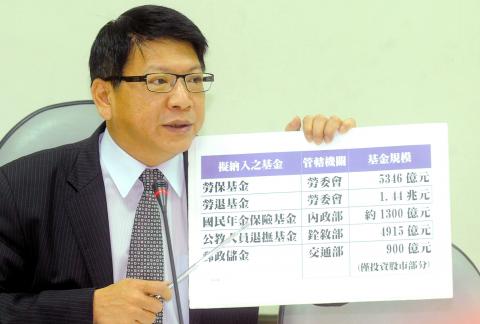 Democratic Progressive Party Legislator Pan Meng-an holds a chart showing Taiwan's major retirement funds during a press conference at the Legislative Yuan in Taipei yesterday.
Photo: Wang Yi-sung, Taipei Times
Managing a sovereign fund would be like "a child flying a jet fighter" for the incompetent administration, Pan said, adding that placing pension funds in the hands of some fund managers would be too risky.
Countries that have sovereign funds are usually less democratic or oil-rich countries and in most cases the management of the funds is not transparent, he added.
Citing a recent case of mismanagement of a government fund, in which former ING Securities Investment and Trust Co vice president Sam Hsieh (謝青良) used the Labor Insurance Fund and Labor Pension Fund to manipulate stock prices and make huge profits, Pan said the priority for pension-funds management is more transparency, better management and efficient supervision.
The DPP opposed a reported plan of the Financial Supervisory Commission (FSC), which would allow the four government funds to invest in the Chinese stock market, over the same concerns, Pan said.
Pan added he suspected that the commission was ready to promote closer financial integration between Taiwan and China, judging by its recent moves.
The commission in July raised the maximum percentage of investment funds for Taiwanese insurance and investment companies in the Chinese stock market from 30 percent to 100 percent, after a meeting between an FSC official and Chinese Securities Regulatory Commission chairman Guo Shuqing (郭樹清) in Beijing in May.
DPP Legislator Chen Ou-po (陳歐珀) said the Ma administration has "completely missed the point" about how people would like pension funds to be managed.
"They only want steady returns of profits, not risking those funds in the Chinese stock market," Chen said.
Comments will be moderated. Keep comments relevant to the article. Remarks containing abusive and obscene language, personal attacks of any kind or promotion will be removed and the user banned. Final decision will be at the discretion of the Taipei Times.